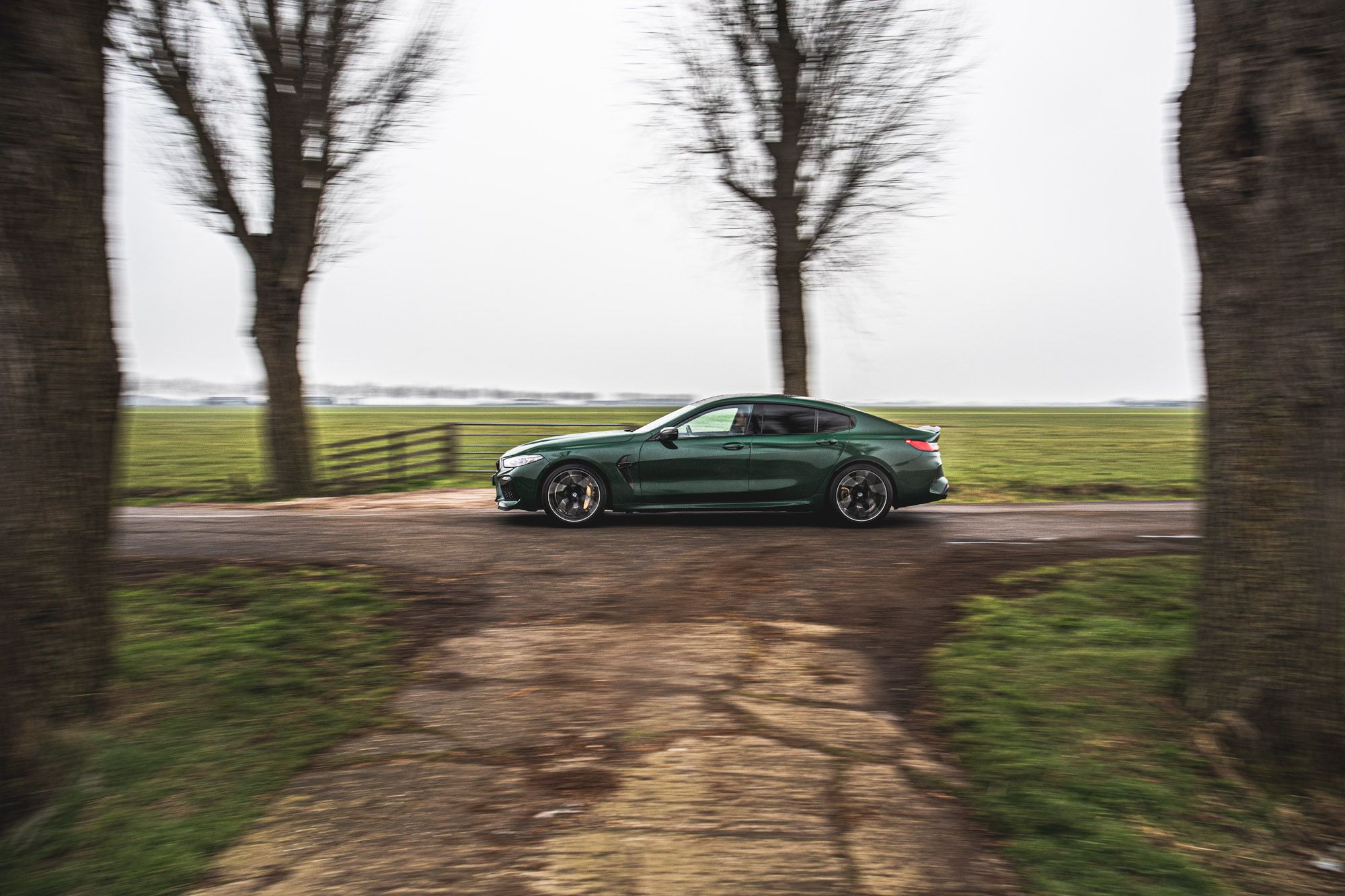 This is a BMW M8 Gran Coupé with Competition Pack, painted in Irish Green by BMW Individual. We took it for a drive and a photo shoot to celebrate Saint Patrick's Day in style.
Remember when we could go out and enjoy ourselves? Party with friends, get drunk in the streets or our local pub? We don't know how things are in the rest of the world, but here in The Netherlands we're still in lock down and on curfew. So sadly, there will not be a traditional Saint Patrick's Day celebration. Fortunately we have some amazing friends, who came up with an alternative idea for a St. Patrick's Day celebration.
The people at Bergwerff BMW asked us to take out their BMW M8 Gran Coupé with Competition Package for a photo shoot. Not the first car you might think of when you think of Irish parties, but it's been painted in Irish Green. Besides that, it should be quite a party to drive this 625 horsepower machine.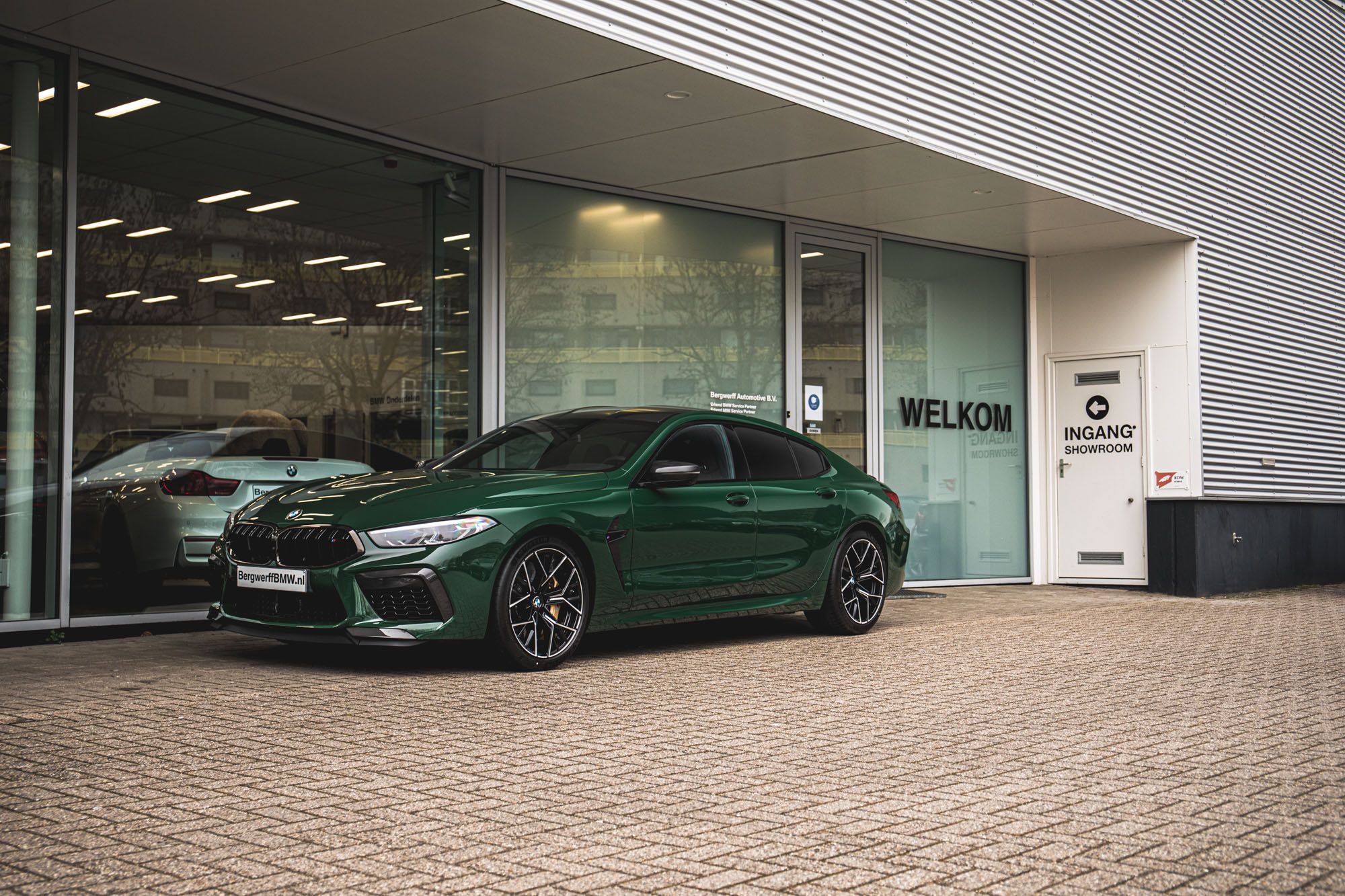 So we traveled to Gorinchem, a town in the south of The Netherlands, to pick up this pretty piece of machinery. Say what you want about the current line-up of BMW cars, we like the lines of the BMW 8 Series Gran Coupé. So when you take the M version of the car, slap on the Competition Pack and give it an amazing color like Irish Green, we're very happy. Add in a tan interior and we're crying tears of joy, basically. Yes, we like the looks of this car.
And it's not just how it looks. Because the people at Bergwerff said 'take all day', we decided to take all day. We planned a route over some highway cloverleafs, to end up at the best Irish Pub in the world for some photos. We figured the dark green front of this pub would nicely complement the color of the M8. So we had some miles to make and some time to get to know this car.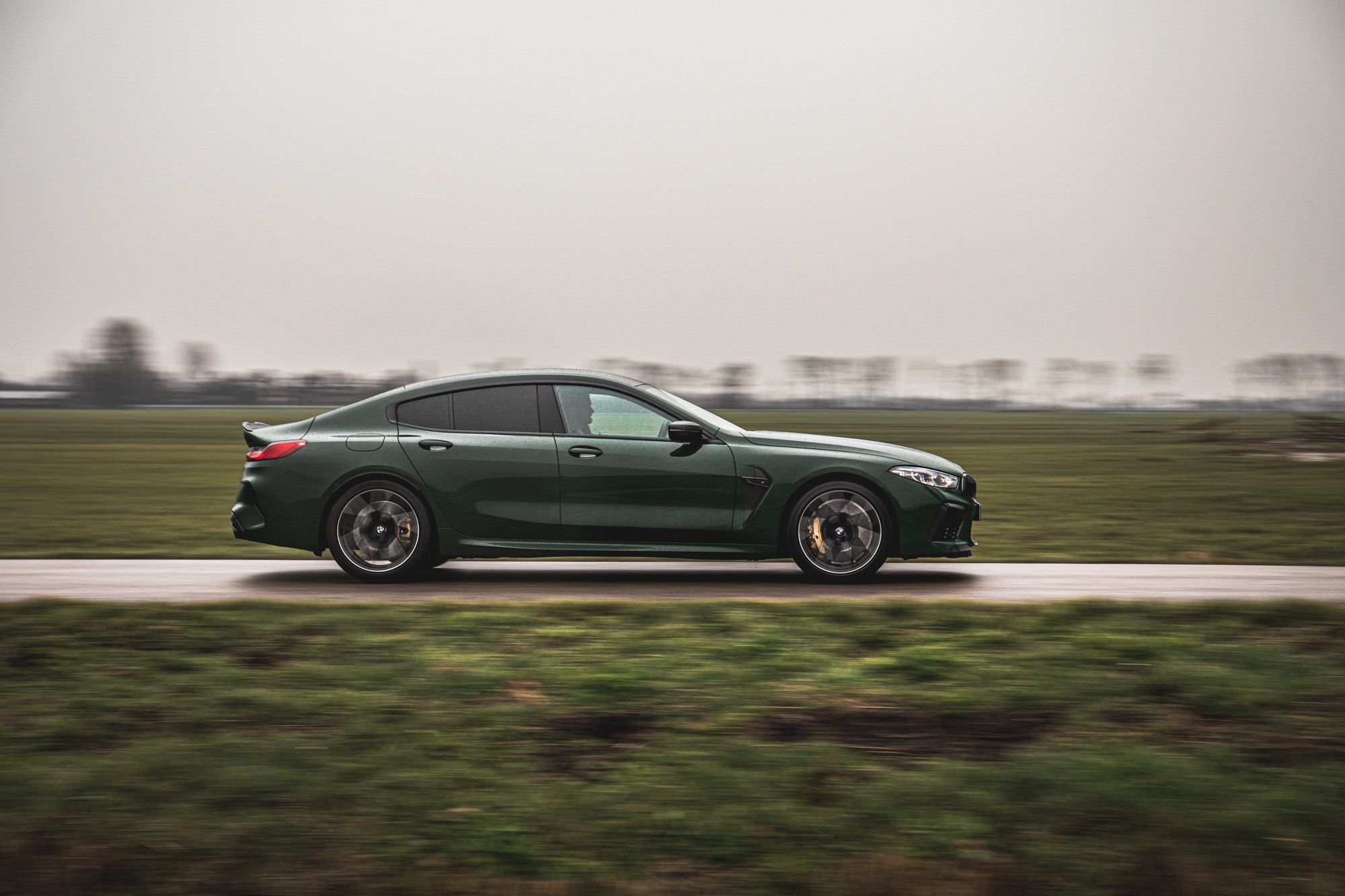 Long story short: it's very versatile car. We had some long highway stretches in which we just wanted to cruise. But then, when we would come to a fly-over, cloverleaf or simply if we wanted to drive on some B-roads, the car would transform with the touch of a button. We used the Sport-mode mostly when we weren't cruising on the highway. There is also a Track-mode available, but that mode is very much setup for just what its name implies: the track. The Sport mode gives you everything you want for public roads.
The four wheel drive system keeps everything in check in a very refined way, especially for BMW M-standards. Keep in mind: there is a very powerful V8 under the hood. The 625 horsepower and 750 Nm of torque are certainly there if you ask for them, propelling the car to 100 kilometres an hour in 3,2 seconds and 100-200 is done in just 7,8 extra seconds. That brings the 0-200 kilometres an hour to a staggering 11 seconds flat. Not too shabby for a car that weighs almost 2000 kilograms!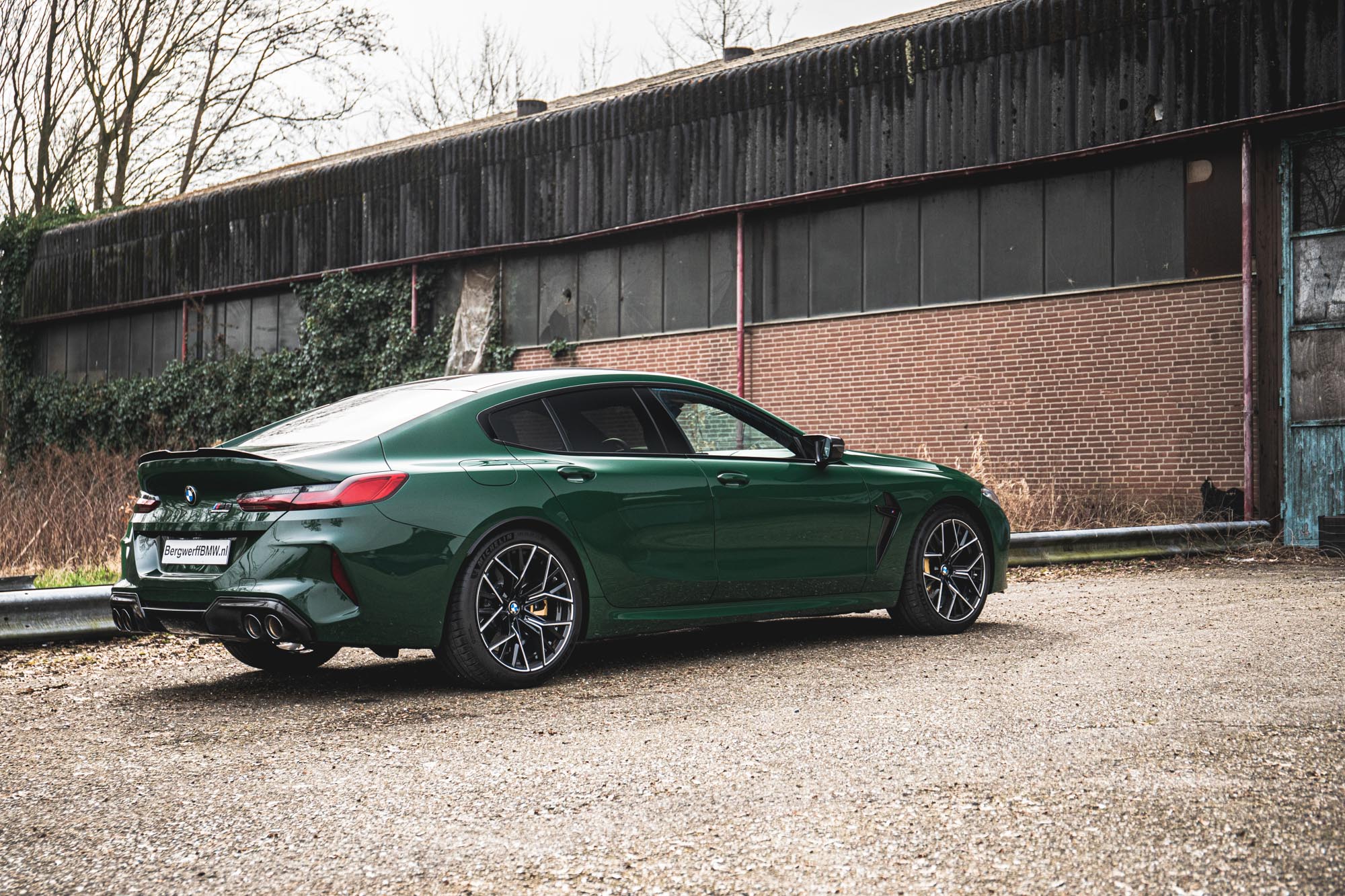 But the 'incredible' part is in the way it works: it doesn't bite your head off. Even if you try to make it do stupid things on purpose, it keeps saving your behind. It's not as edgy or aggressive as most other M-products, but it's still as fast or faster than those other Motorsport cars. And if you ask us that's exactly what a car like this should be, because an M8 should be incredibly fast but also incredibly distinguished. If you want to be a sideways hooligan always, everywhere, BMW has loads of products in stock. M2's, M3's, M4's, maybe even M5's. This is a car you buy when you don't have anything to prove, unlike the ones mentioned previously.
The BMW M8 Gran Coupé Competition is the grownup, the daddy of all BMW M Cars, the one to make the kids look stupid when they are shouting and doing stupid stuff like challenging their parents. This is the daddy that lets the kids win at sports, but knows it can always win with just a little more effort.
And that's basically how our day went. It was all quite relaxing, but every now and then we went at it and the BMW M8 Gran Coupé Competition just never, ever disappointed us. It excels at everything you ask from it, whether it's blunt force or refined comfort: this thing has it on demand.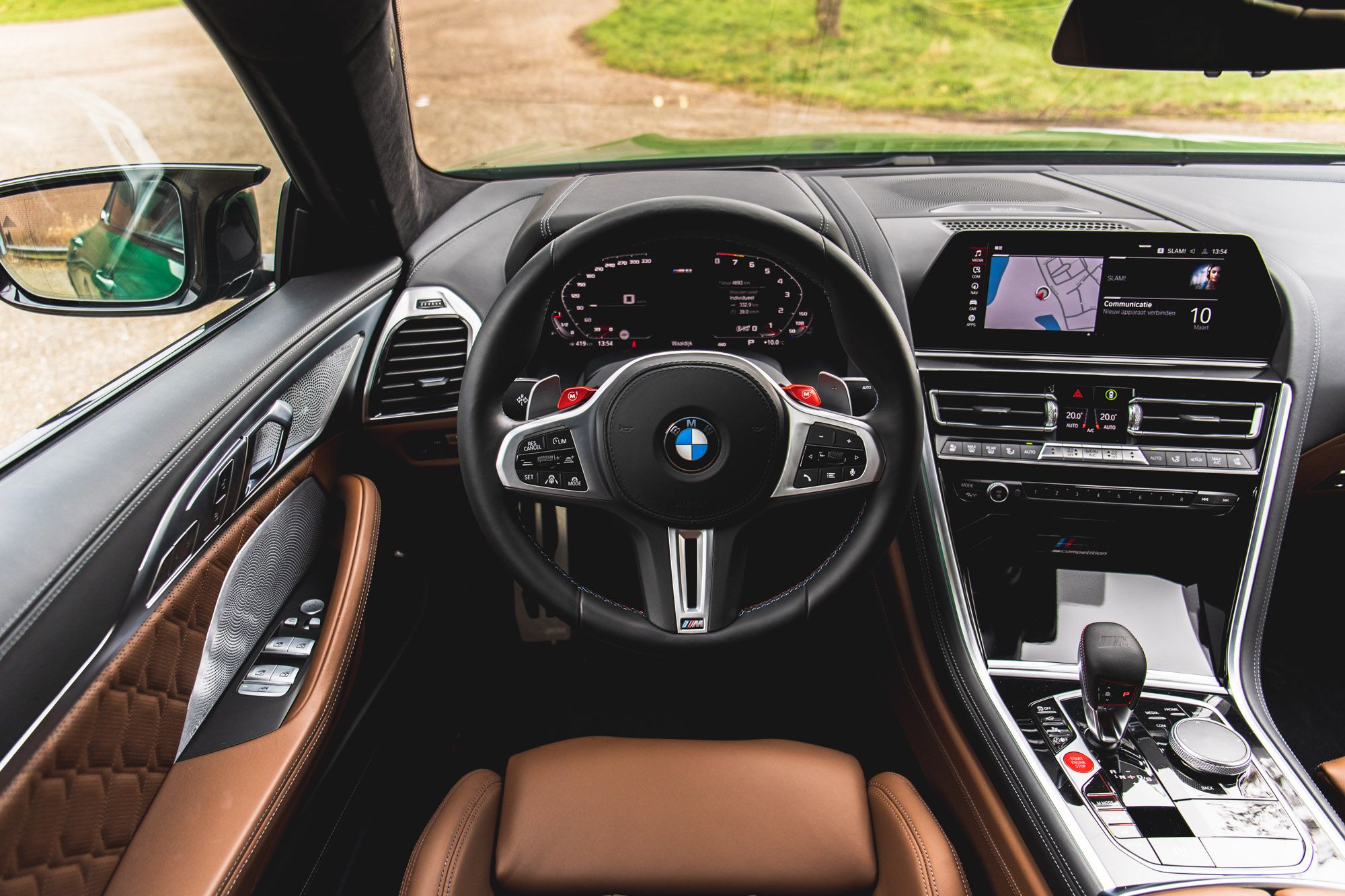 The cabin is an amazing place to be in as well, supplied with all the comfort you could think off. The amazing mixture of aluminium and brown leather is just timeless. Green over tan never gets old if you ask us? The seats are amazing and there's actually a lot of legroom for the back passengers too.
We eventually ended up at the best Irish pub in the world, which isn't to be found in Ireland, funny enough. It's in the Netherlands, in a city called The Hague. The pub is called O'Casey's. And even though we loved our St. Patrick's Day celebration, we sure hope we can celebrate it inside of that pub in 2022. We did shoot a small series of photos in front of their nice dark green place. It matched the car perfectly if you ask us. And even though we can't celebrate St. Patrick's Day the old fashioned way, we still had a lot of fun with our alternative celebration.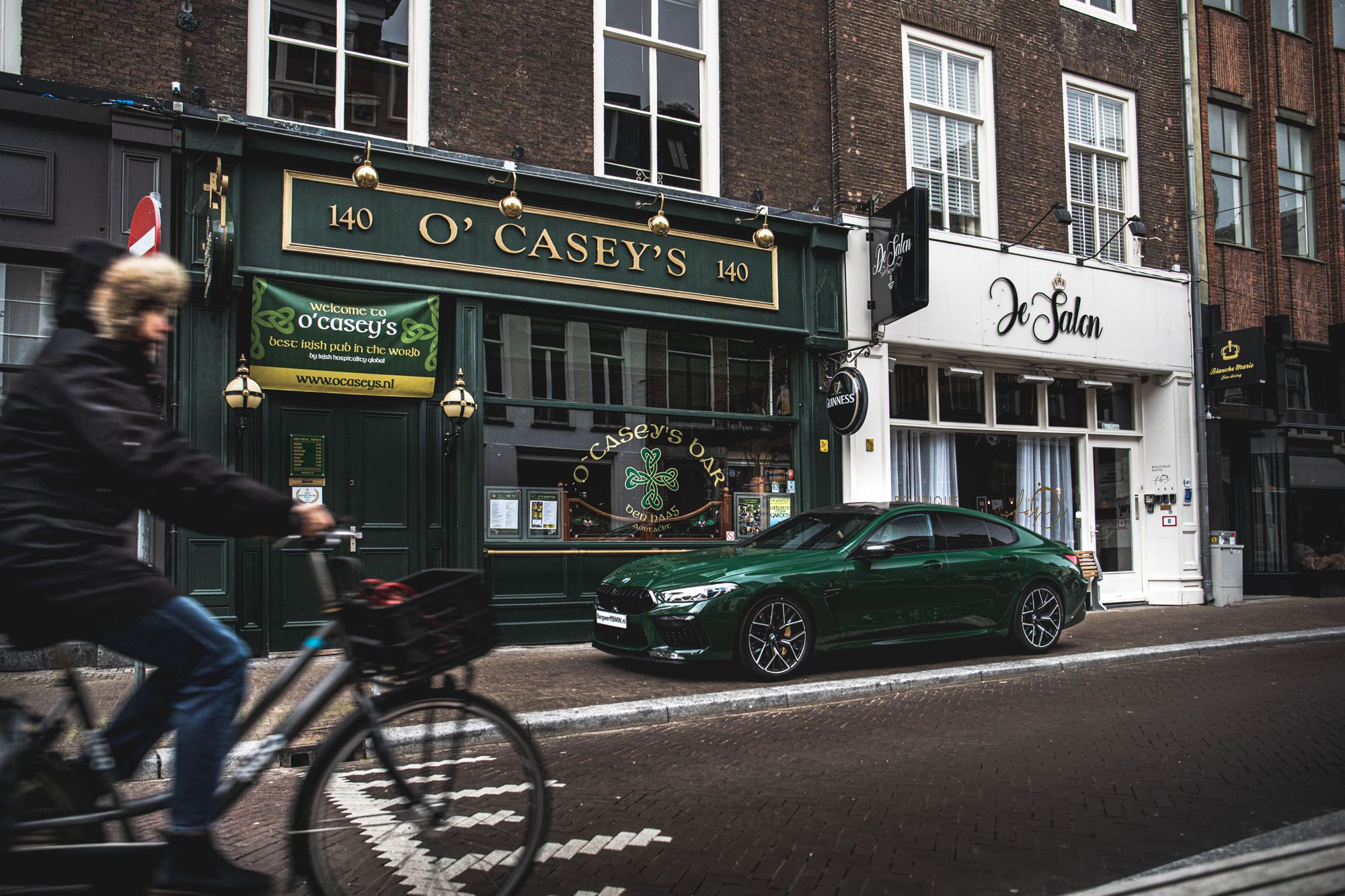 We made a video about it in Dutch, which is featured on our chief editor's YouTube Channel. Thanks to Luuk van Kaathoven for the camera work!
Thanks to the people at Bergwerff BMW for making this amazing day possible. Stay healthy everyone and happy St. Patrick's Day to you all!