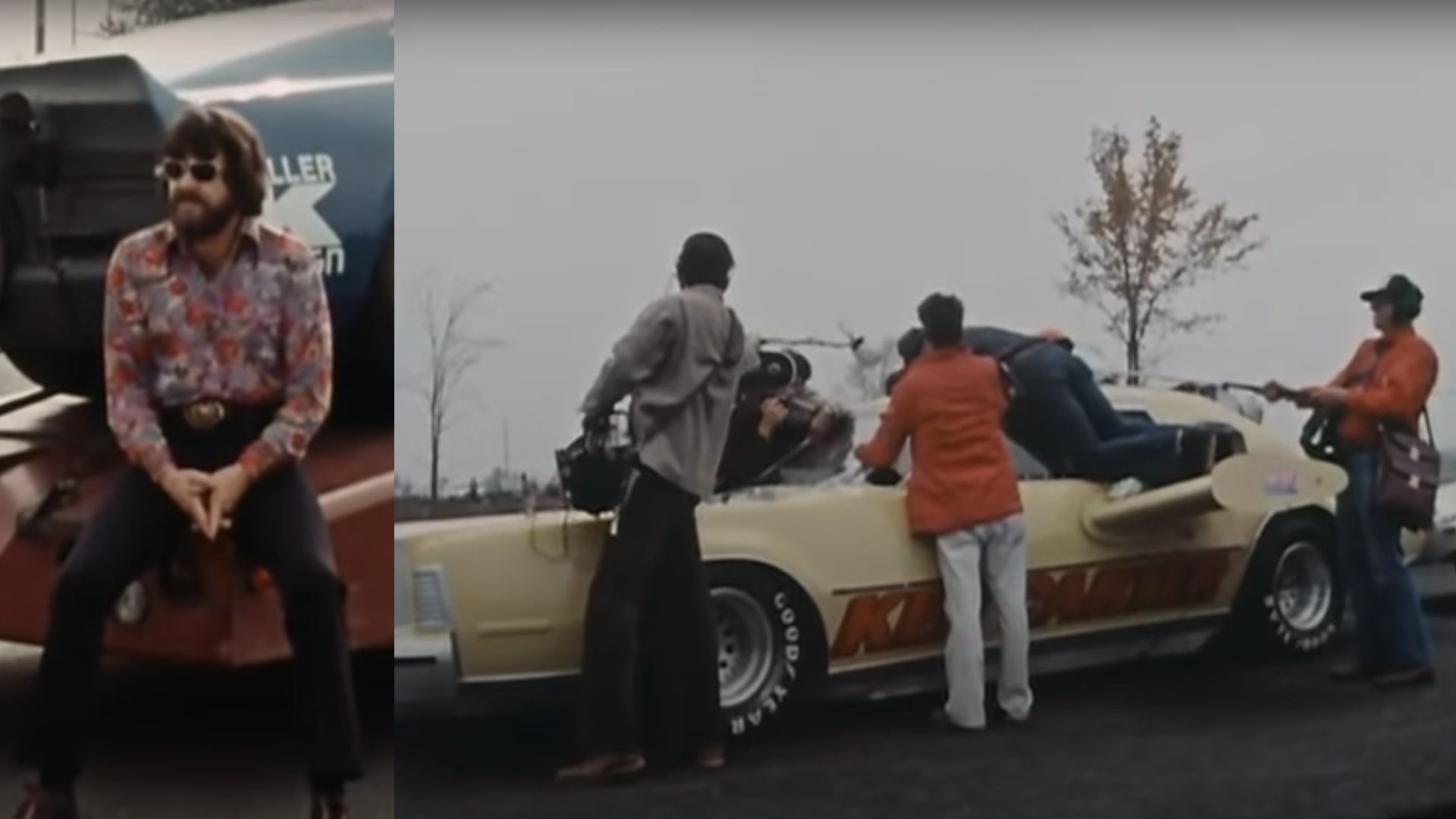 The Devil At Your Heels is a documentary about Canadian stuntman Ken Carter. A man who wanted to jump over the Saint Lawrence River (which forms the border between Canada and the United States of America) in a rocket powered car. Not a big deal, you might think? Well, the river is a mile (1.6 kilometer) wide at the location where he planned the jump. You read that correctly.
In the documentary at the bottom of this article, we see stuntman Ken Carter planning it all. He's trying to raise all the funds necessary to build the car, the ramp and arrange everything else for him to become the greatest stuntman ever. Because that's what this attempt is all about: the pride of Ken Carter. But jumping a car over a mile, means you can't exactly plan your landing with the most precision possible.
Sounds crazy? Maybe it was. A lot went wrong, that's for sure. Fuel tanks exploded multiple times during testing and the event was postponed time after time for various reasons. There's so many setbacks, it gets hilarious and tragic at the same time. It also makes you appreciate the persistence and dedication Carter has, despite his extreme naiveté.
The complete story is impressive. Not only for the extreme idea, the countless setbacks and the persistance of Ken Carter. It's also an amazing story about a man who has a goal that seems impossible to achieve. But still he gets everybody around him to tag along. People who seem to have common sense and a healthy set of brains are convinced to sponsor and support Carter's dreams.
The story covers a period of five years, in which Ken Carter raises over a million dollars and builds a huge ramp to make the jump. It's an incredible story with a crazy twist in the end. We won't spoil it, just sit back and watch the film. It's one hour, forty-two minutes and thirteen seconds long, but it 'll be over before you know it. Or you can skip forward to the crazy finale (around one hour and 25 minutes into the film) of this five year adventure. It's all up to you.
About YouTube Gold
In this returning series we highlight a YouTube video we love. It can be recent, it can be older than the internet itself, but it's definitely worth the watch. It can be a documentary, a short clip, a feature of a car or an onboard around a track. It can be a very expensive production but also a very simple production. Sometimes a dashcam video leaves a bigger impression than a Hollywood production. Either way, what we post in this series is worth your attention in our mind. It's in our favorites and we think it might just make it to your favorites too.
To make it easy, we collect all our YouTube Gold featured videos in a public playlist on our channel. Go check it out, and while you're there: give our channel a follow and, if you please, set the alerts for new videos. We'll be posting stuff there you will not want to miss.
Source: NFB Blog