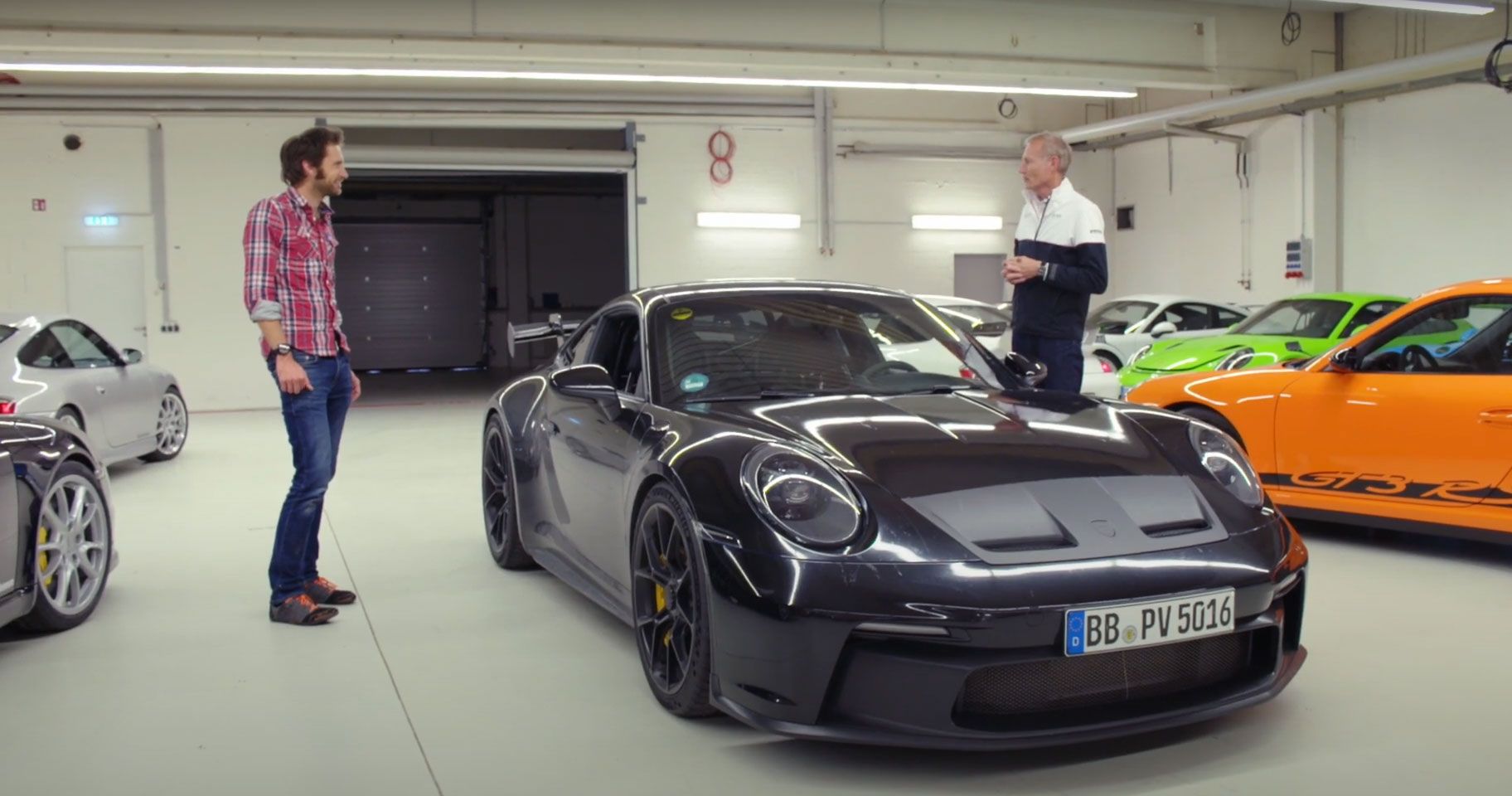 It's not long now before Porsche will officially introduce the all new Porsche 911 GT3 of the 992 generation. To warm us up for this event, Andreas Preuninger shows us around a never before shown garage of his Porsche's GT headquarters.
There's some true gems in that building, including the original GT3 based on the Porsche 996 generation and some unicorn stuff like the Porsche 997 GT3 RS 4.0 and the 991 R. If you like Porsche GT models, you must check this video out for sure.
Andreas Preuninger
The boss of the Porsche GT department is a true petrolhead. Before working at the GT department, he worked at the Porsche Driving School. We've met him in the past and he's a great driver and a very approachable guy. As long as he's running the show in Weissach, we don't worry too much about future GT products. Check Andreas out on Instagram.
Henry Catchpole
Mister Preuninger is interviewed in this Carfection production by Henry Catchpole. For those who don't know him: he's one of the last car journalists who truly understands what cars are all about. He loves driving and has great appreciation for true driver's cars. You can follow Henry Catchpole at Instagram for great content, allthough you do have to put up with the fact that every now and then he posts something about cycling. Nobody's flawless.
Disclaimer
Now, before continuing, there's something we need to say. Here at DrivePact, we will not be spending a lot of time on bringing you 'the latest news'. There's a lot of places where you can find news. Let it be about the latest update on the Toyota Yaris infotainment system or the better emissions of the newest Golf: there's lots of websites, YouTube channels, Instagram accounts and other media that are covering these kind of subjects. We really don't care.
But we do care about driver's cars. So every now and then, when there's something to tell about a highly anticipated, desirable driver's car, we will dive into that. Like with this Porsche 911 GT3 of the 992 generation.
Porsche 911 GT3 (992 generation)
And then the main role in this video. It goes to the new Porsche 911 GT3, based on the 992 platform. It has wider track front and back and wider tyres, so it will go around corners faster than the previous models. Besides that there's a completely newly developed front suspension geometry with double wishbones. There's also bigger brakes.
Front wheels are 20 inch, rear are 21's, like the previous generation GT3 RS. Tyres will be 255 wide in the front, and 315 in the back. The brakes will be 408 mm steel rotors in the front and 380 mm in the back. For reference: the previous generation GT3 uses the same size rotors in the front as the upcoming model uses in the rear. Combined with even more contact patches, the stopping power will no doubt be mind-boggling.
Design of the new Porsche 911 GT3
Despite being bigger, it will weigh around 1430 kilograms 'wet', so including fuel, oil, cooling- and wiperfluids and so on. Weight reduction is being managed by using carbon fiber, leightweight glass and some other bits and bobs. A carbon fiber hood is standard for the base car. And that rear spoiler? Preuninger promises us the wing is heavily camouflaged, it will be beautiful on the production car. But it will be a 'hanging wing' to optimise aerodynamic suction and efficiency on the underside of the wing. The rear bumper is also still heavily camouflaged, so don't worry about that big butt.
Porsche 992 GT3 Engine
There's a naturally aspirated 4.0 liter six cylinder boxer engine in the rear of the car. It will have particle filters, but the first sounds from the video actually aren't bad. The exhaust is lighter too. Will it sound as good as the previous generation? We'll have to wait and see. Don't be fooled by the looks of the lever: the car in the video has a PDK automatic gearbox. It's not the 8-speed from the Carrera and Carrera S, but a 7-speed unit. But don't worry! There will be an optional manual gearbox.
Of course all of the above means there's lots of speculation about Nürburgring lap times. We'll have to wait untill Porsche reveals those officially. Preuninger says it's 'devastatingly quick' and 'some mouths will be wide open'. We would like to respond to that with 'put your money where your mouth is', mister Preuninger.
UPDATE
Chris Harris (you know, that bloke from TopGear) got to meet Andreas as well, spoke to him even longer, and got him to show a bit more of the car. Check out the video below!