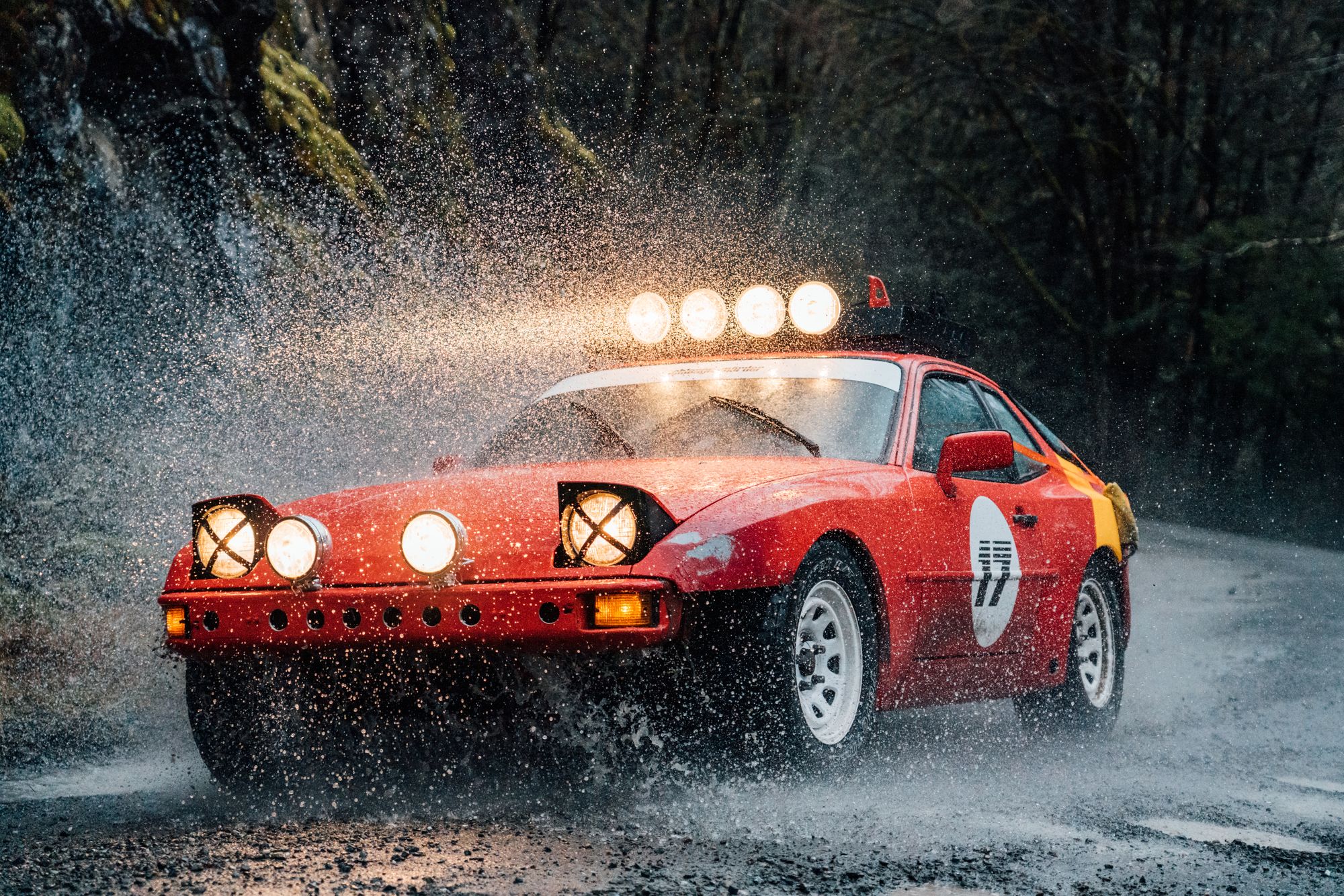 In this story we introduce you to Nick Hanlon's Porsche 944 Rallye nicknamed 'Schlangenmörder'. This car is quickly conquering the internet and we completely understand why. It's purpose built, it looks rad and it's being properly used in every image we've seen.
When I first saw this car on Instagram on an account called @944Rallye, I instantly picked it up and shared it in the @DrivePact Instagram stories. Everything about the photo just seemed so right: the Porsche 944 was modified like nothing I'd ever seen before, but there was also something truly intriguing about the imagery. It was dark, moody. There was an atmosphere so heavy it almost fell off my screen.
It was a no-brainer to share Nick's images in my stories, but I wanted to give this car a little more attention. So in true COVID-19-lockdown-spirit I suggested we'd do a little video call, to which he immediately said yes. It resulted in an hour long conversation in which I got to know Nick, the idea behind his car and of course all the details about his car.
About the man - Nick Hanlon
Nick Hanlon is located in Bellingham, Washington. That's basicly the most north-western point of the United States, on the border with Canada, near Vancouver. He is the founder and creative director of a production company called 1123 Productions which was -among other things- involved in the video productions of eGarage. So Nick has a background in automotive story telling and imagery. No wonder we were instantly triggered by his photos on Instagram.
But the thing is, Nick was actually schooled as a car designer. Besides running his production company, Nick gets his kicks from designing high-end hotrods. Remember this, because we're making a little segue, which might seem strange at first but it's important for the total picture we're painting here.
Free diving to free the mind
In 2019, business gets tough for Nick and he finds himself stressed the F out. He seeks relaxation in nature, going on hikes in the mountains. When he comes across a fresh water lake with some incredibly clear water one day, he can't help but think: what if I dove in? He starts to search the internet, to see if there's more people who do the same thing.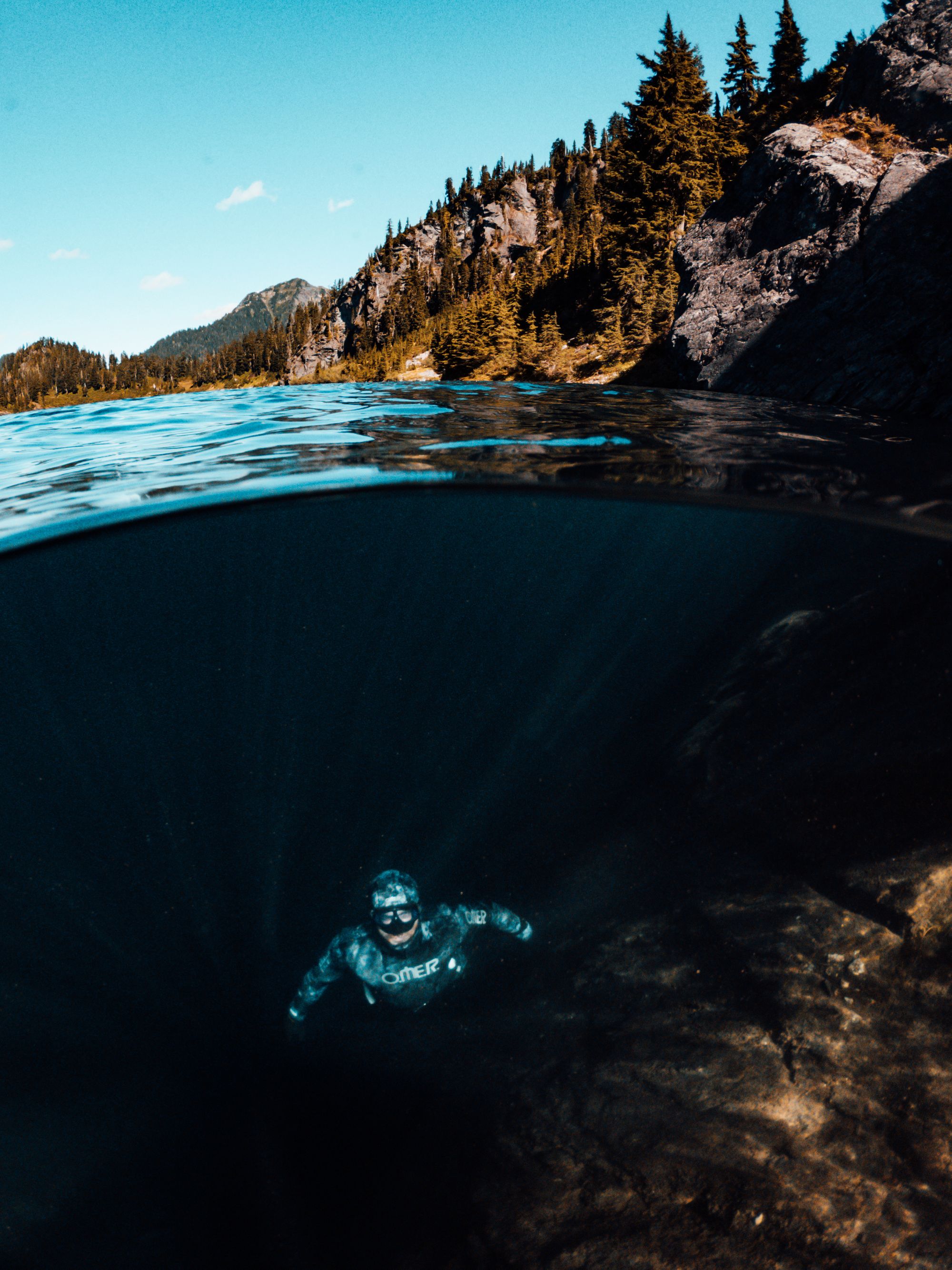 In his search he comes across a guy called Wim Hof, also known as The Iceman (not to be mistaken for Kimi Raikkonen). Hof is known for his Wim Hof Method, which centers around cold therapy, breathing techniques and commitment. It's something Nick decides to delve into, and he soon discovers it brings him peace of mind. The breathing exercises and meditating make him relax and he starts to explore the art of free-diving.
But to get to the clearest of lakes for his free diving passion, Nick needs to hike. And to get to the places to start his hike, he needs a car. And since he wants to be able to explore places that are less traveled, the car needs to be capable. The idea of a rally or safari car starts to emerge in his mind.
About the machine - Porsche 944 Rallye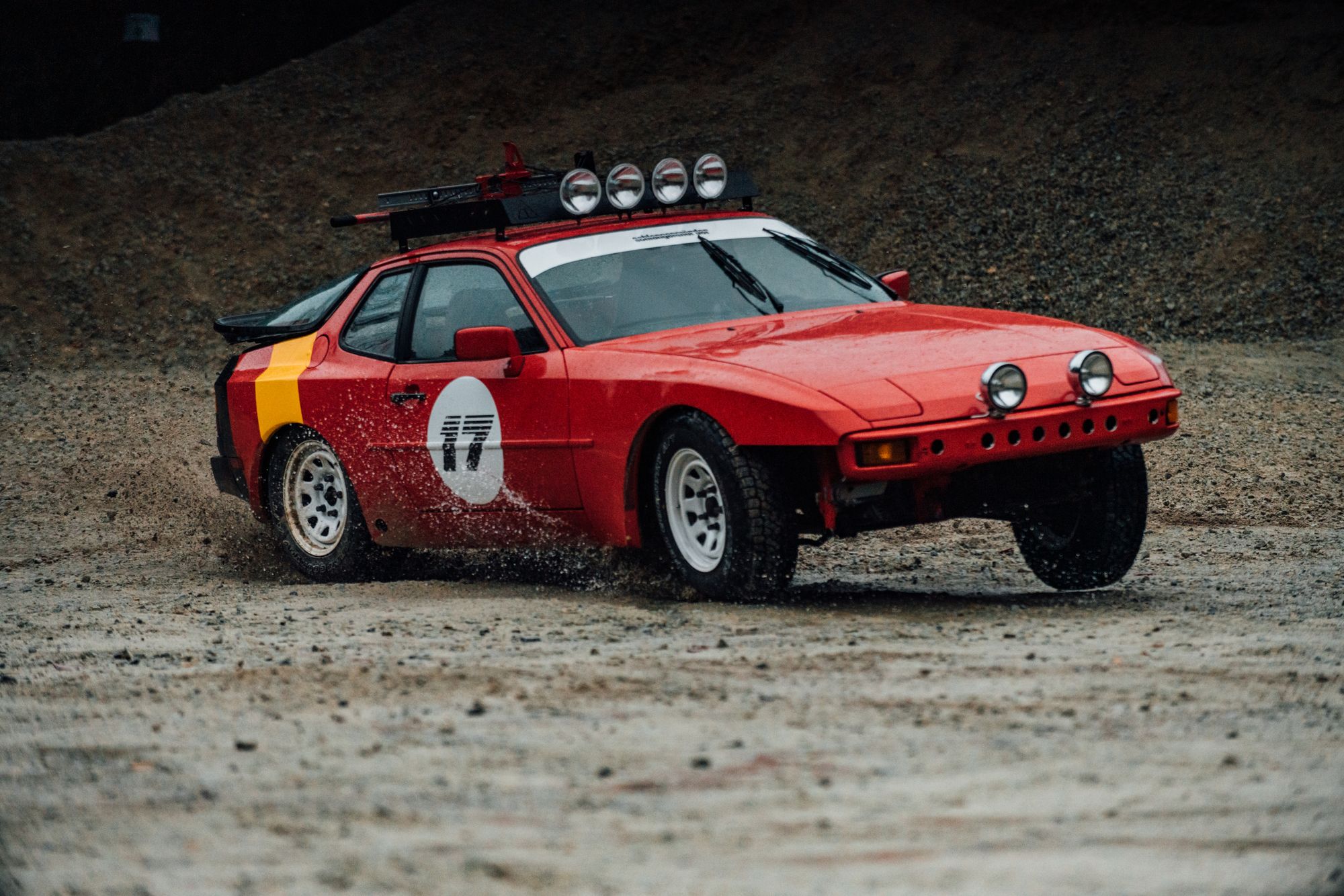 A Porsche 944 comes on Nick's path and he starts to think this might just be the right car for him. He starts to explore the idea of lifting the car, going the exact opposite route of a 944 racecar. He starts browsing the web for possibilities and gets in touch with the guys from 'Only A Roadtrip Away' who have a lifted Porsche 924. They send Nick some schematics for the front lift of the car, and it all starts to snowball from there.
To raise the rear, Nick checks with some of his friends who race 944's on track. They tell him which way they indexed the torsion bar in the rear to lower it and Nick just does the exact opposite to raise the car. He gets himself some wheels and tires, CAD-models stuff for the lift kit he needs and goes from there. Being a car and hot rod designer, there's not a lot of secrets to the trade for Nick.
Purpose built offroad free diving mobile
One thing is very clear to Nick: this car has to be completely purpose built. Its design is focused on driving into the mountains as far as possible, in the worst possible weather. The car has to carry all hiking and free diving gear, and it has to be bulletproof.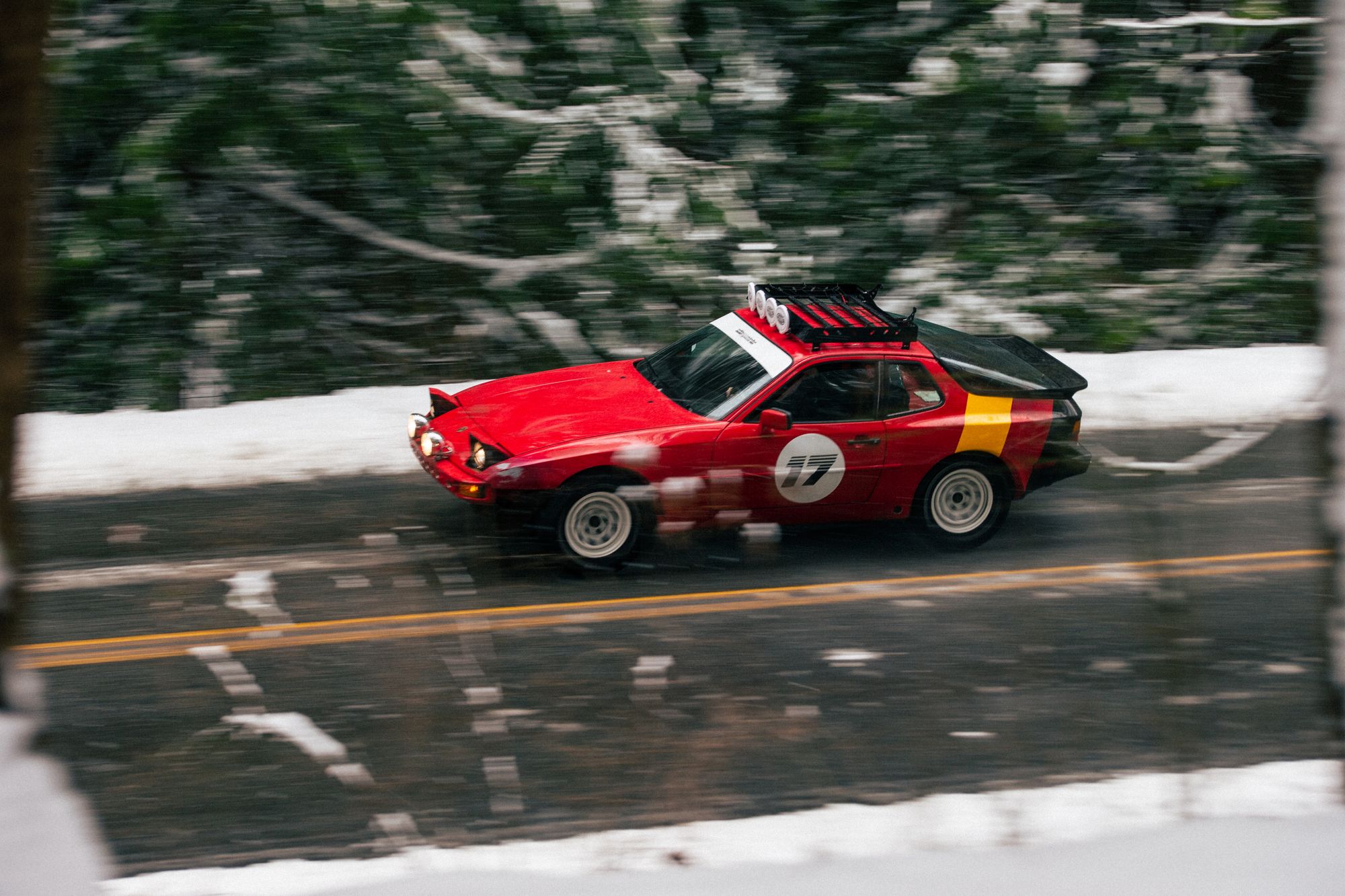 Nothing is skipped in the process: the complete car gets checked and parts get fixed, replaced or overhauled if necessary. The engine was rebuilt but since Nick is a strong believer of upgrading to your needs, he decides to leave the 140 horsepower engine stock. For reliability but also because he'd rather drive the stock engine to the best of his abilities.
For the whole concept of the car, Nick handles 'the rule of Porsche-worthiness' which is actually something we just made up. Nick would probably think of a way cooler name for what he does to his cars. But what he does, be it modifications, upgrades, adjustments and visual changes; they all need to be carried out in a way Porsche would approve of. Every modification is thought through, he wants to meet the quality people would expect from Porsche themselves. If something is done to the car, it should complement whole.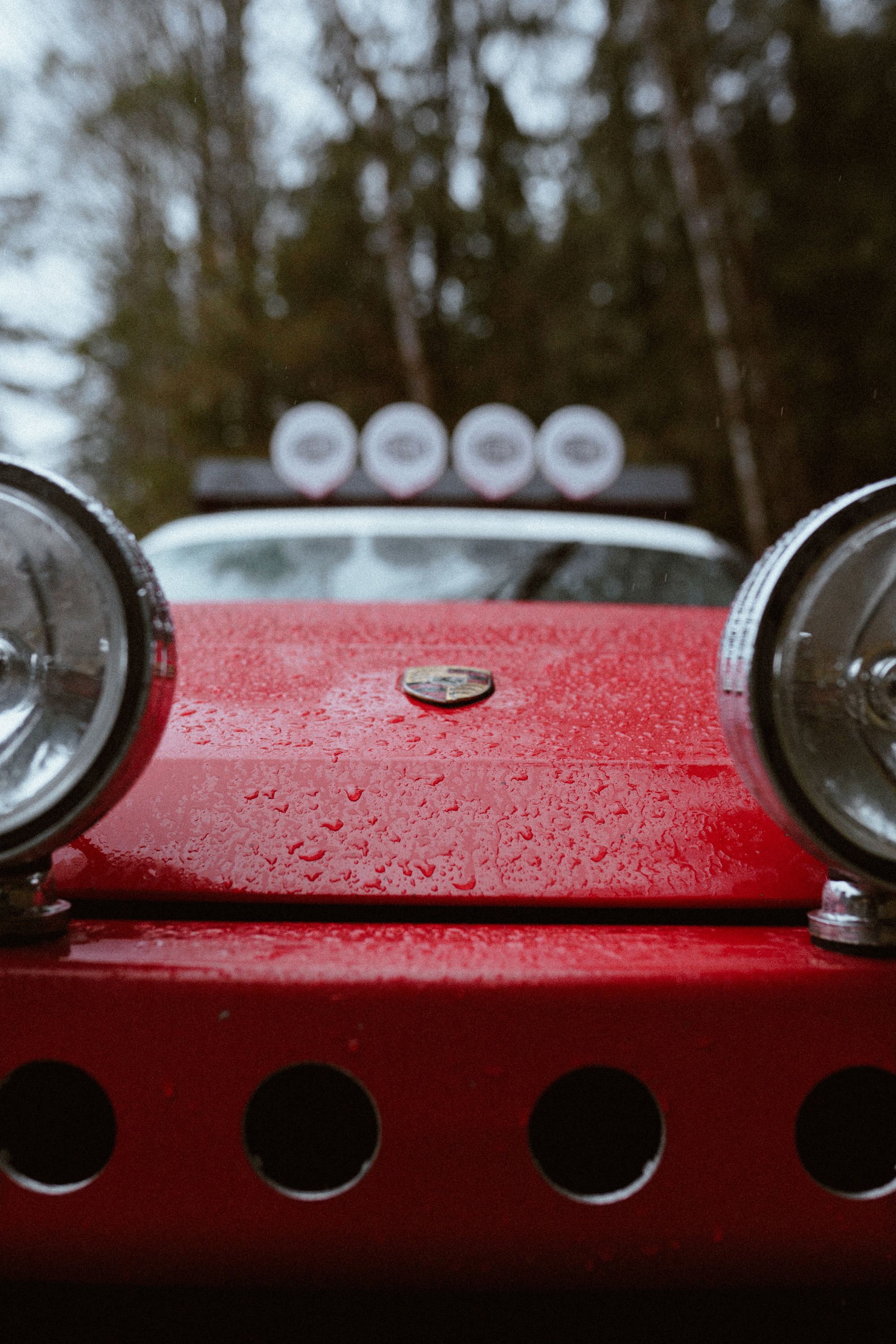 Since Nick has his car designer skills, he starts creating CAD-models of parts and he starts fabricating custom parts, sometimes reverse engineering stuff if needed. His little 'tuna can' transforms bit by bit to the amazing thing it is now. Friends get involved and lend them their time, workspace or knowledge.
The car is more than just Nick's personal project. The amazing custom roof rack for instance: created by a friend with a motorcycle shop. Parts are sourced from a 944 specialist 100 miles away if needed, who soon became a friend who gives him loads of advice on how to work on the car. People start noticing that he's building something cool and encourage him to try and 'break the internet' with his unique car.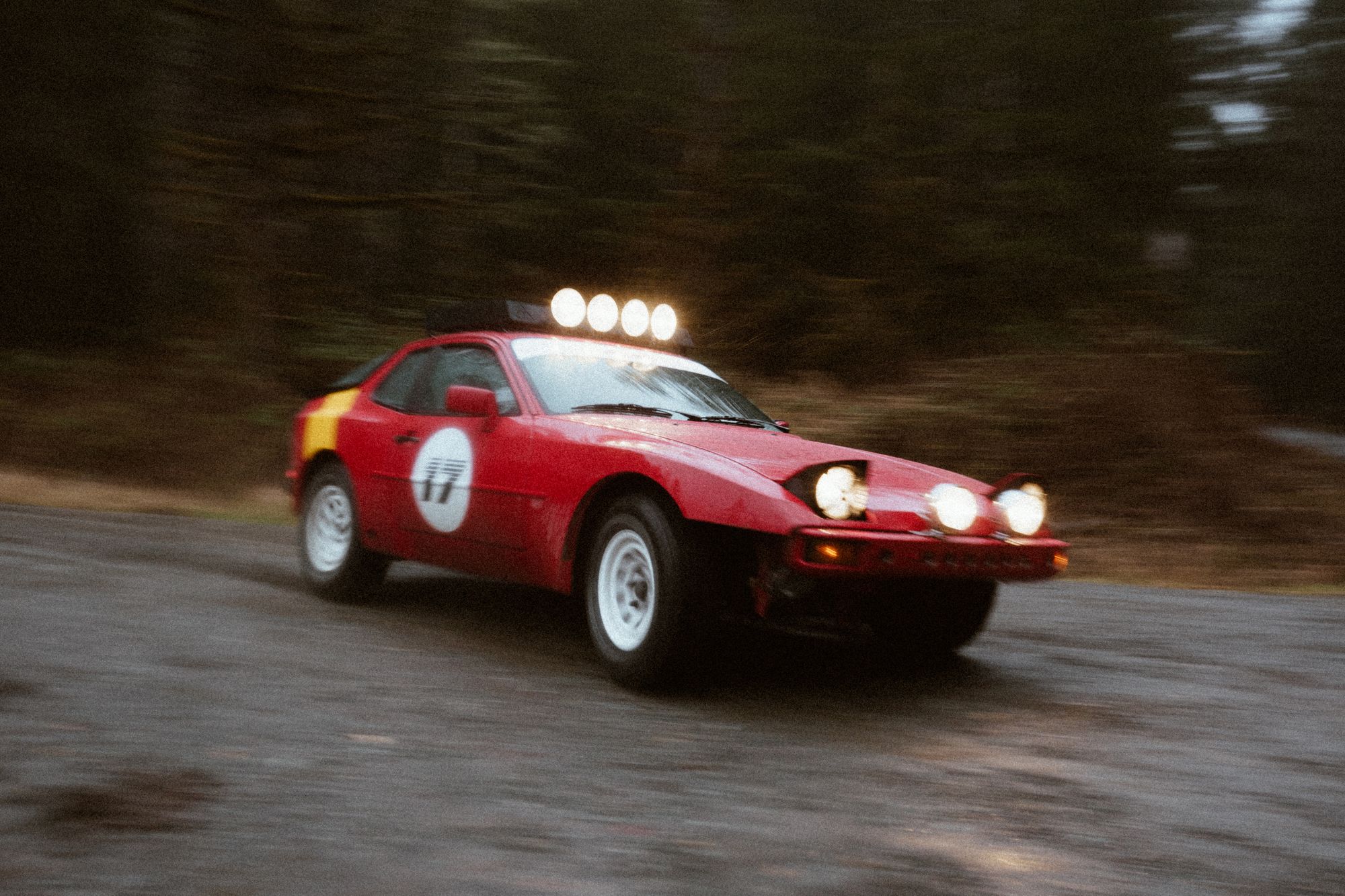 The livery is applied, which is actually inspired on a BMW 2002 racing livery. He decides to go with the theme of the German flag, which has an added bonus: one third of it is red. So he only needed black and yellow vinyl to get the flag-theme going. The paint peel going on is actually not something Nick worries about: the car is allowed to show its age.
The Number 17
The number 17 comes from an old volvo v70 T5 Nick used to own for film production travels.  The sound system sounded best at volume level 17 and at the time the song "Winaloto" by Tommy Cash was a big hit.  Every time they set the volume to 17 to hear the beat the best.  Soon any song that bumped really well became known as a "17" in the sense that the number 17 meant anything that was good. It then went beyond music: "oh this sandwich is 17 for sure" or while looking at a cool car "damn son, that's a 17." If you ask us, the '17' is well deserved on the Porsche 944 Rallye.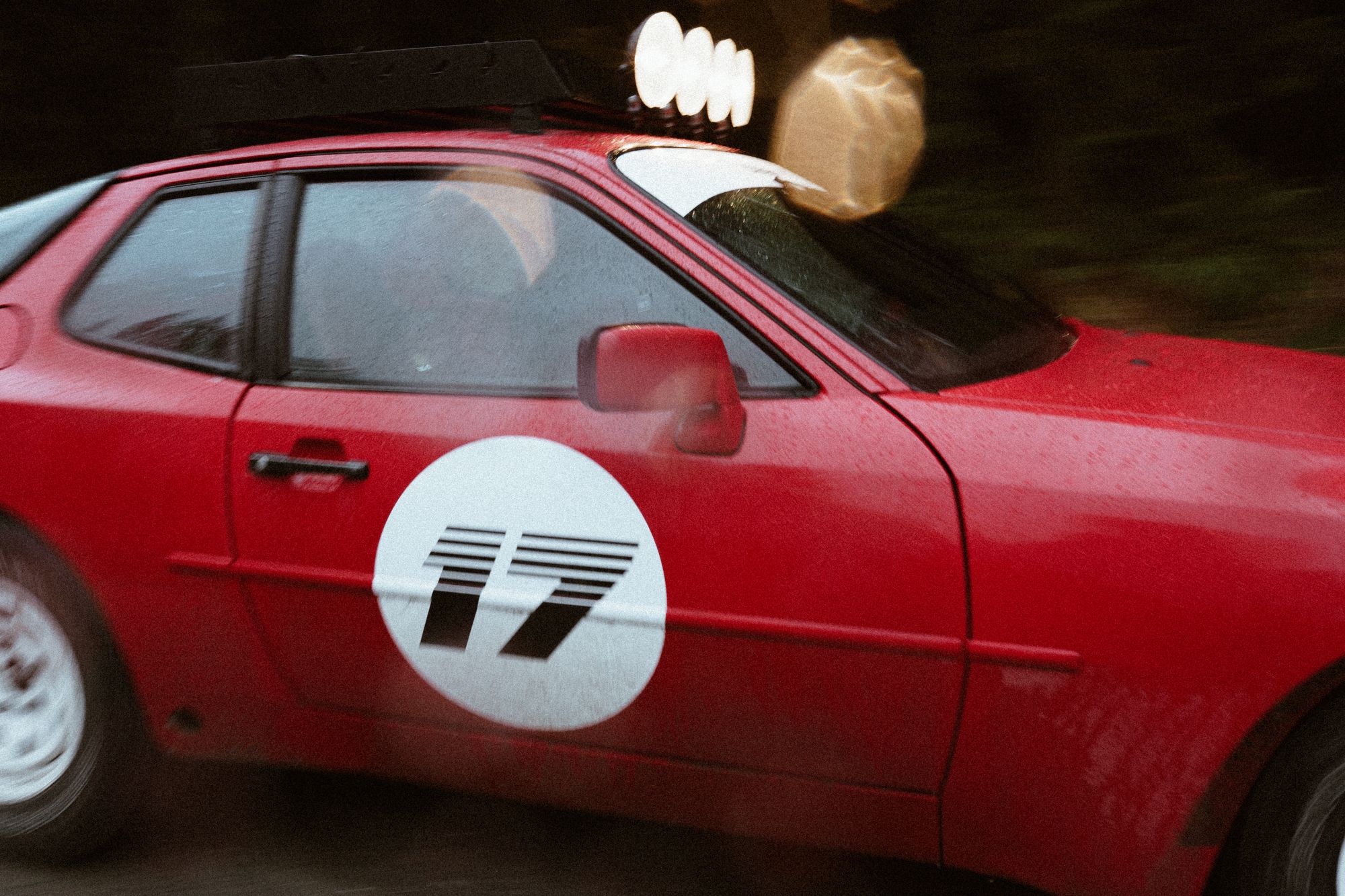 The interior is still relatively standard, with a stripped out back and some clay Porsche 996 seats on custom rails. He also fabricated his own center console and changed the door cards to black alligator skin ones.
Schlangenmörder
For the hidden code name on the car "Schlangenmörder": that came from childhood riding the train to the Midwest for 1.5 days.  In the flat lands of North Dakota, Nick was in the viewing car of the train. From the emptiness of the plains came this 'piece of shit Toyota truck that had the living hell beat out of it'.
It began chasing the train, keeping pace, bounding over dirt bumps and ditches. But on the side of this atrocity was spray painted in large letters "Snake Killer". That stuck in Nick's head forever. 'Schlangenmörder is a gentle nod to those two brutal, fun having rednecks out there in the empty plains of the Midwest, just translated to German.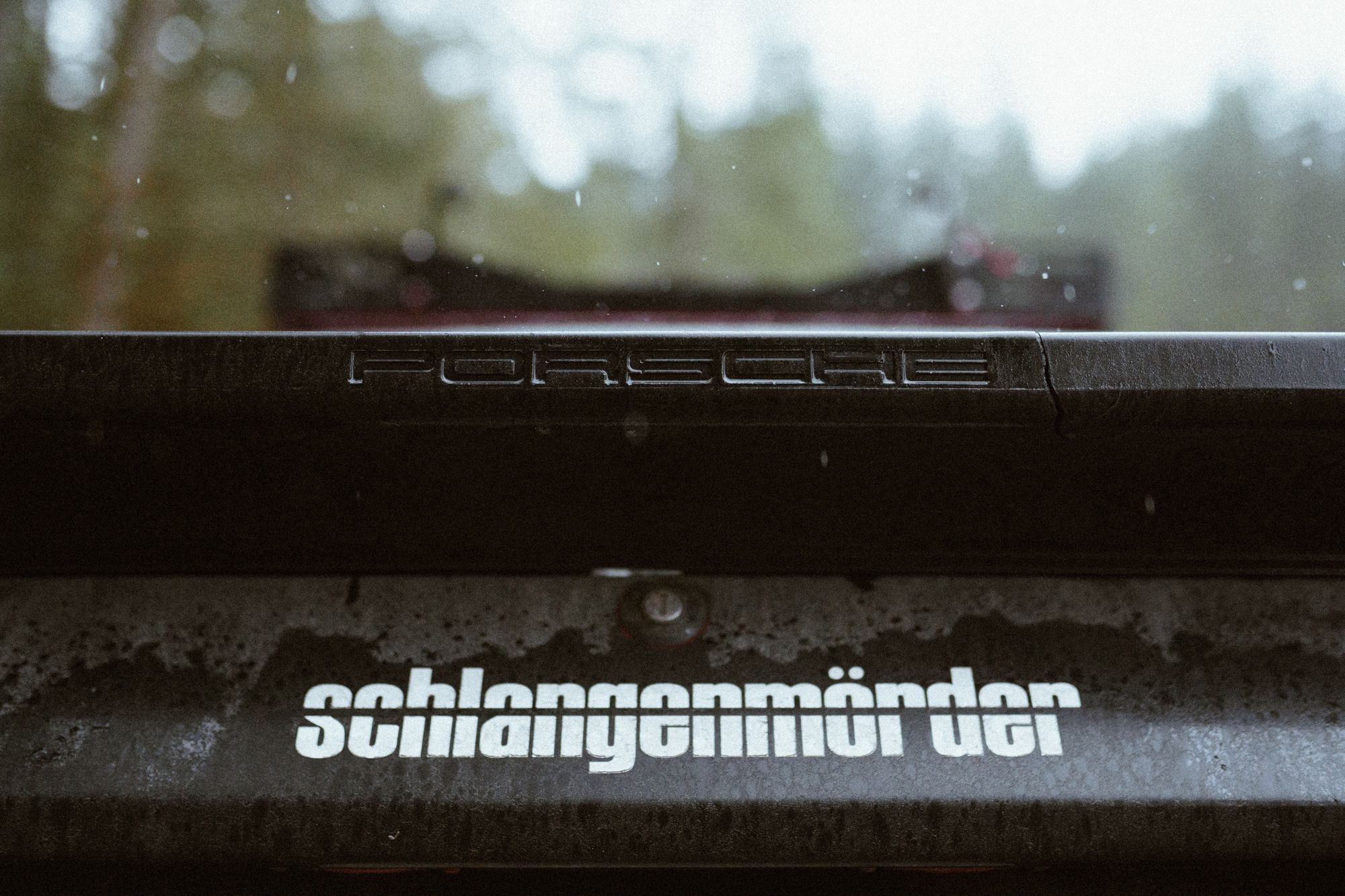 The future of the 944 Rallye
Nick bought the car in april 2020, so little less than a year ago. He slowly transformed the car into himself. It's his escape from society. Whenever stress levels are peaking, he gets into his car and drives into the mountains to go dive at 6000 ft. The car is a very important aspect in Nick's life. Everything he has done to the car serves the purpose of getting away from society, to take a break from the daily grind.
Nick doesn't just seek to finish the car. Project cars are never finished. His main goal is to keep driving it hard, see where his limits are and what stuff breaks when the 944 is driven over its limits.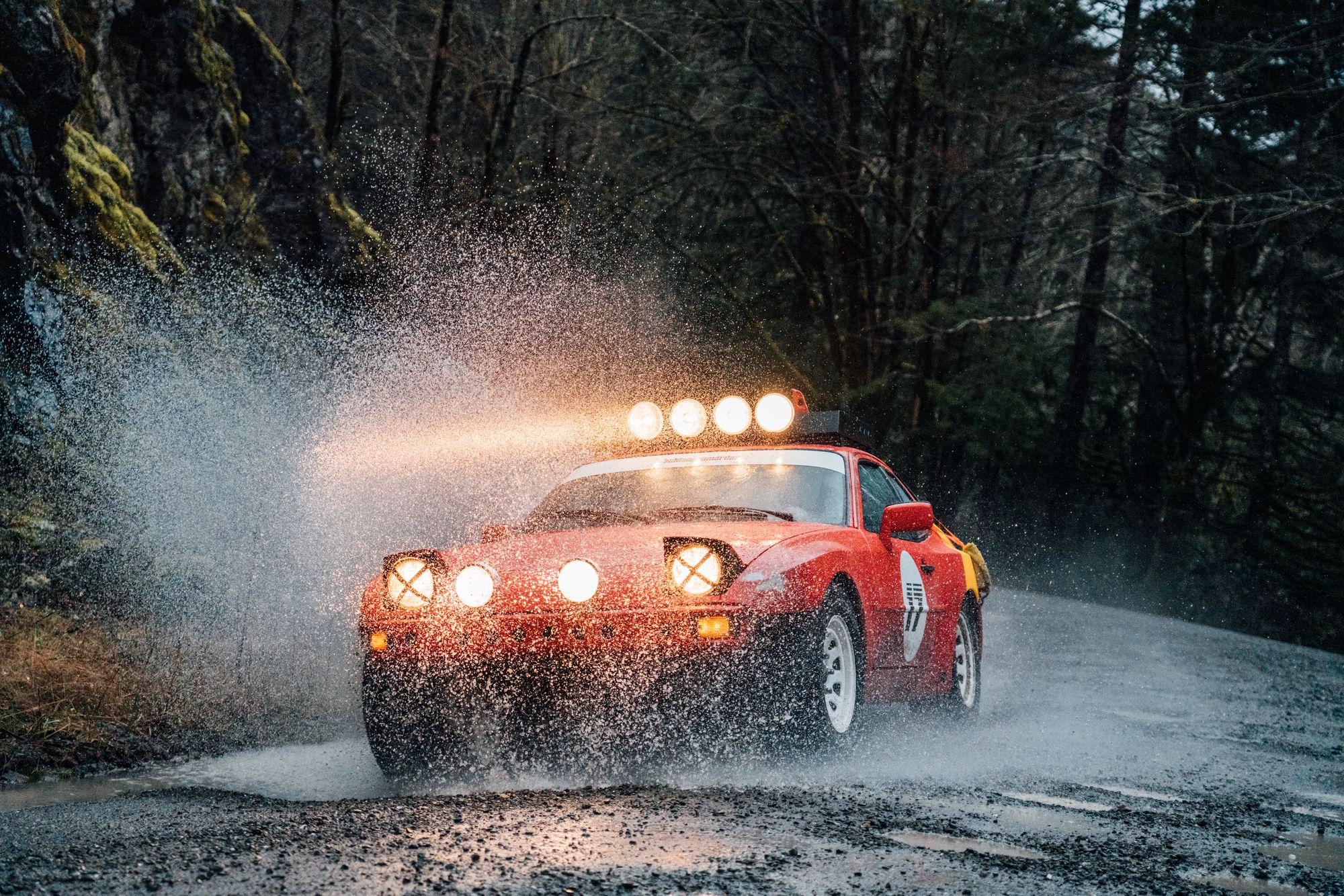 When thinking out loud though, Nick mentions a few things. Long travel suspension (but without lifting the car ridiculously) with coil-overs and a front bumper skid plate are high on the list.
Sharing the passion
Why cook up all this coolness if you can't share it with fellow gear-heads? Nick is actively working on finding ways to sell his custom parts for the 944 Rallye. Lift kits, the front bumper, basically everything that's modified on the car is carefully considered for serial fabrication and reselling. Nick wants to build an ecosystem that enables anyone with a Porsche 944 to cherry-pick their parts for their own adventure-mobile.
So there you go, the story behind the coolest and toughest Porsche 944 Rallye we have seen in our lives. We love this thing and we'll be keeping an eye on Nick's Instagram to see where he takes this build. A big shout-out to the photographers who sent us the amazing photos that accompany this story, you can check out their Instagram accounts here:
Colby Mesick
Alex Powell
Leto Black
In the meantime: if there's anything you see on the Porsche 944 Rallye, get in touch with Nick and ask him for the possibilities.
Do you have a cool car you want to share with our community? Send us a message!