Most of you might think of cigars, corduroy and men of considerable age when you hear 'Austin Healey Sprite', but we love it when conventions are broken. Meet 34 year old Robbert, who drives an Austin Healey Sprite. And he drives it hard.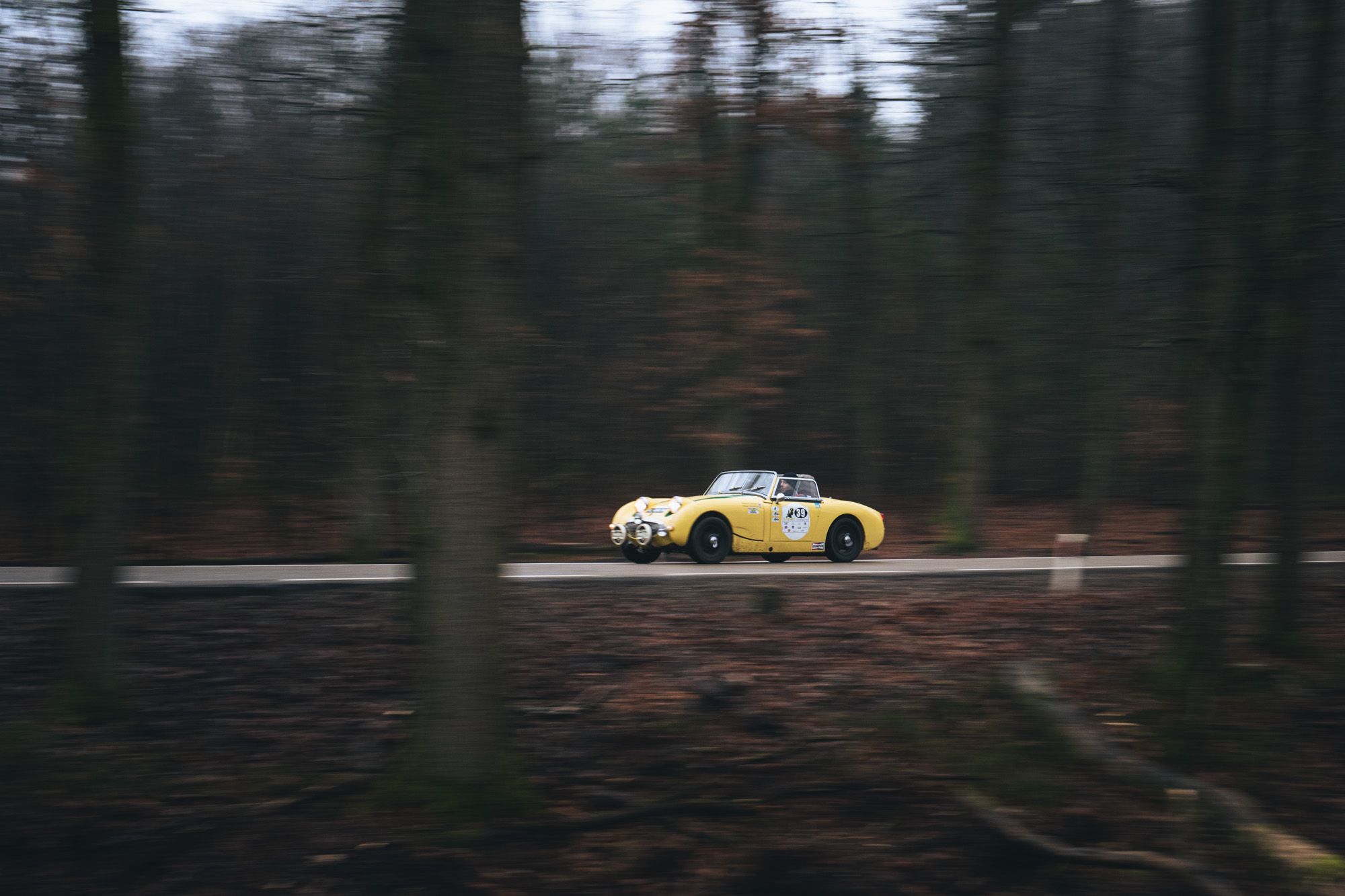 It's cold and wet when we meet Robbert. Not the most ideal weather for driving a roadster, probably. But it's very much British weather, so it's actually quite fitting for what we're up to today. Because today's subject is as British as can be: an Austin Healey Sprite Mk1, built in 1959.
The car sits in a private storage, somewhere in the middle of The Netherlands, between some other vintage cars. It's a very cold and drafty old shed next to a farm. We try to fire up an old heater in the corner of the shed, but it doesn't work. We'll have to warm up later in the camera car, for now we'll just have to bite through the cold. Hessel and I start preparing our gear while Robbert starts pushing aside an old Alfa Romeo to make room for his own car, which is tucked away in a corner under a cover.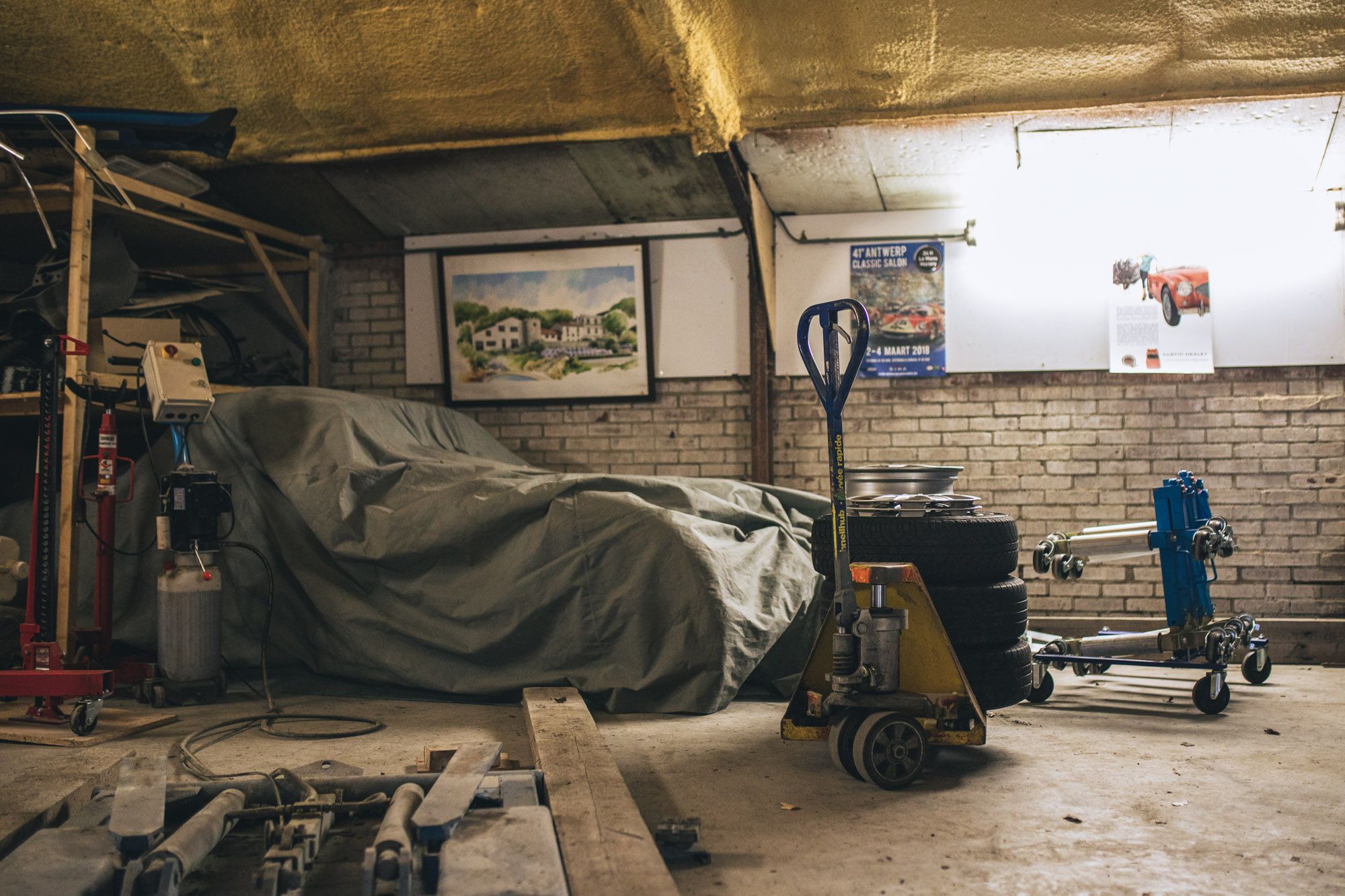 When the cover is pulled aside, we see the first glimpse of today's subject. Yellow paintwork, but this is not an original Austin Healey color. It's actually an Audi color that was used on old RS models, applied by the people from whom Robbert's father bought the car in 2002. 'The car was in pieces and had to be reassembled', Robbert remembers. It was built up by his parents, who drove the car for a few years. Robbert started driving the Sprite, and together with his brother he cooks up some ideas. Two years later he gets his driving license by the way. Don't ask. Robbert and his brother saw potential in the Austin Healey Sprite Mk1: it could just be a nice base for the rally car they had in mind. They start working on the car, killing the cuteness first by replacing the standard steel rims, and blacking out the knock off wire wheels that replace them. The guys also add some classic green striping.
To add speed, add light
No, not 'lightness', we would never rip off Mr. Chapman's quote like that. But because they want to drive rallies, they decide lights are important.
In the front two Hella 2000 spots are added, accompanied by a Lucas WLR 576 spot and a Lucas SFT 576 spot. And just to be sure they mount another Lucas SFT 576 at the rear, for enhanced sight while reverse driving. The standard headlights are replaced by 70 Watt headlights and are protected by stone guards. To power all this, a bigger 65 amp alternator is fitted in place of the standard 30 amp piece. The whole electrical system gets an overhaul to make sure everything works without problems. An extra instrument switch cluster with new fuse box was fitted to control the extras.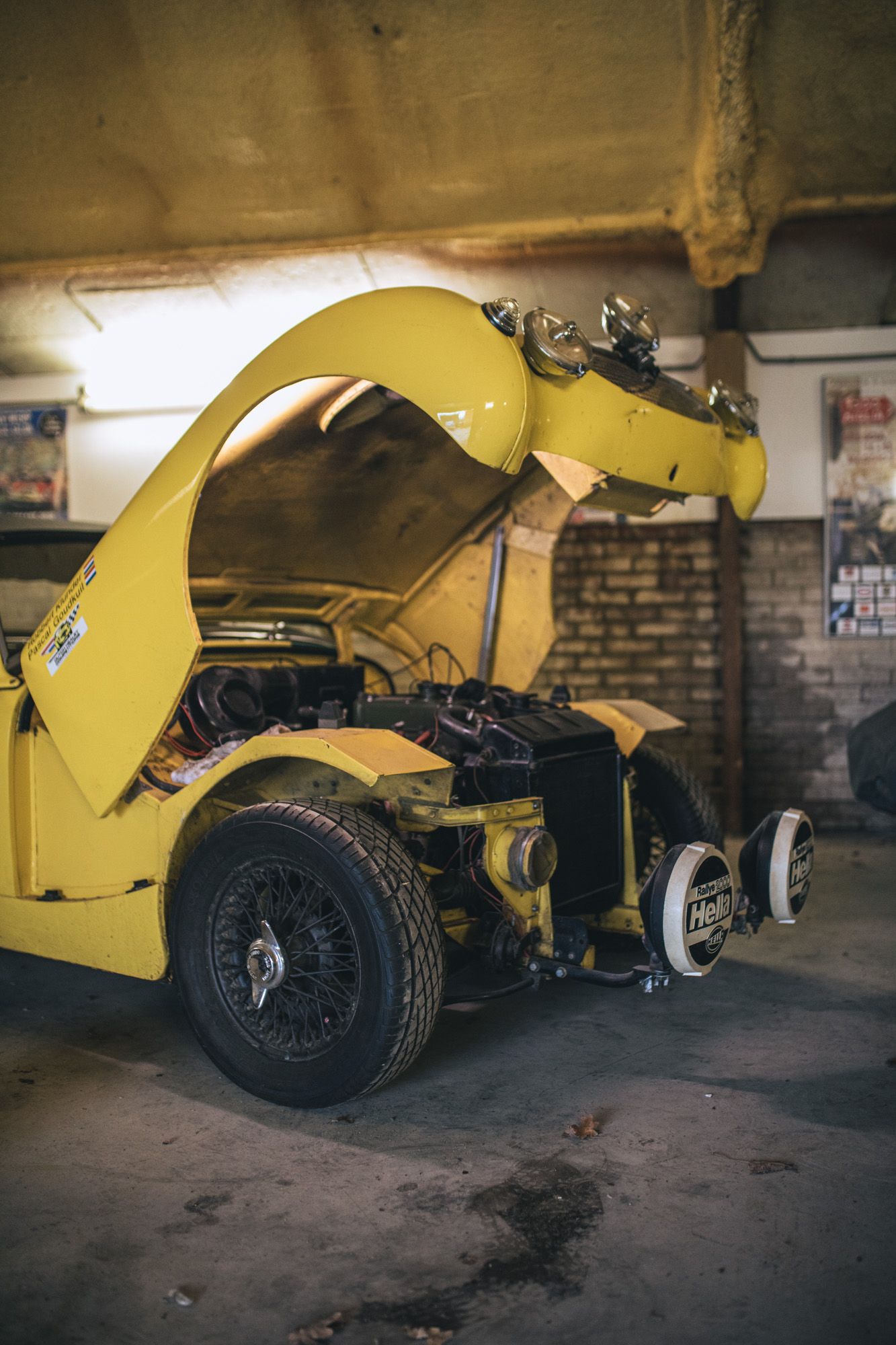 Robbert brought a fresh battery for the car, and it comes in handy: the cold winter days have killed the one that's in the car. After fitting the new battery and feeding the car some fresh petrol, the Austin Healey Sprite starts up. Reluctantly, we must say: it starts up but it doesn't sound too happy. But that might have something to do with the engine modifications.
The engine of Robbert's Austin Healey Sprite
In standard guise the Austin Healey Sprite Mk1 has a 988 cc engine good for a modest 45 horsepower. The small block has a cast iron header with a small double muffler exhaust and a double SU HS2 with restricted air filters.
The engine in this Sprite is a bit different though. There's an engine out of an MG Metro under the hood, and it's not been kept stock. The standard 1275 cc engine has an enlarged capacity of 1298 cc thanks to a larger bore and bigger pistons. There's a more aggressive camshaft, double upgraded SU HS2's with K&N filters, a steel LCB header with a single big bore muffler at the back and a more powerful fuel pump. The extra heat is kept under control through extra cooling fans and a radiator overflow bottle. The gearbox has also been replaced by a Mk3 with more cooling ribs and cooling fans on the casing. It also has better gear ratios, Robbert adds.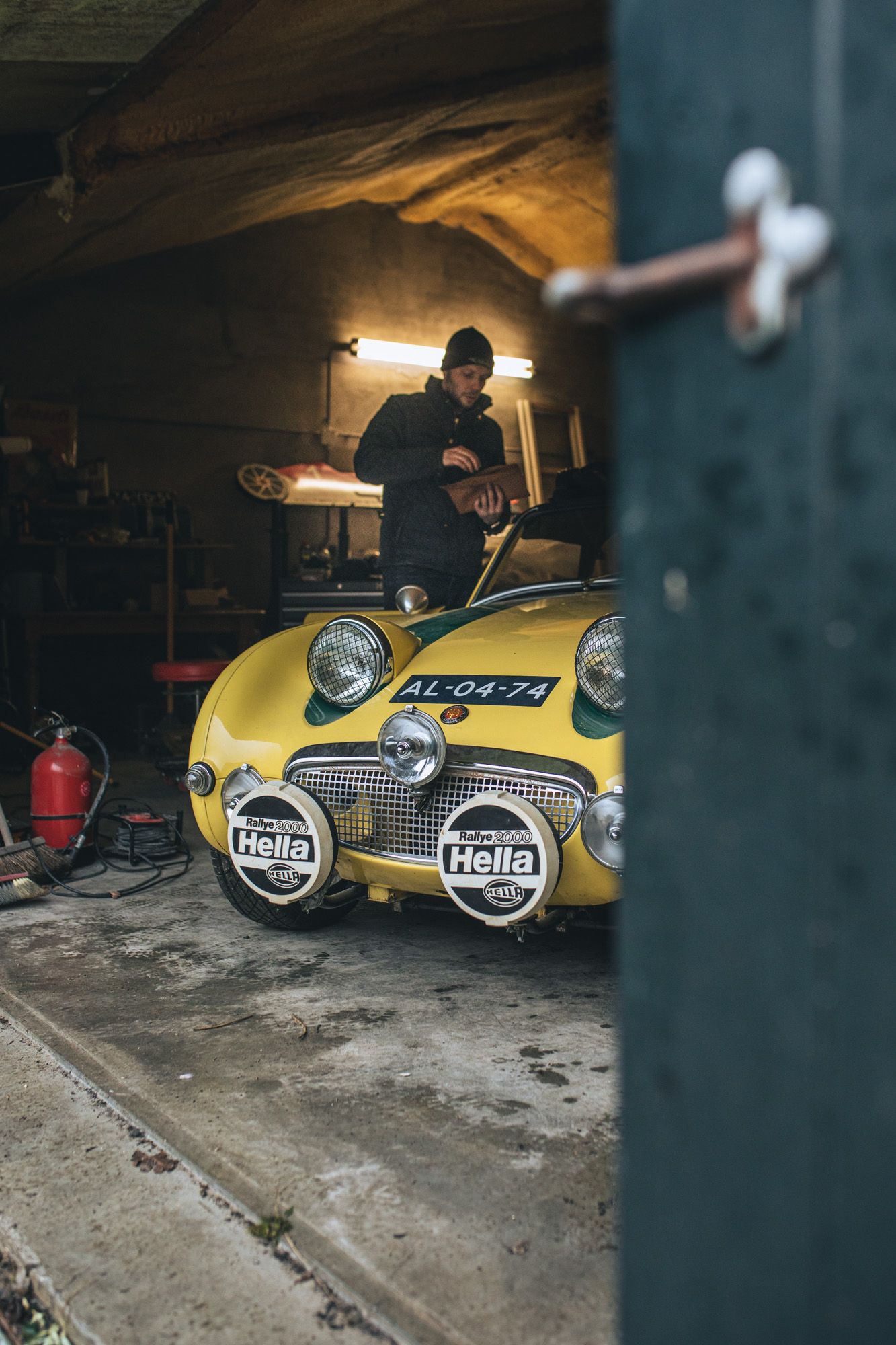 All of this combined with some other bits and bobs, the Sprite now produces around 75 horsepower. Not bad at all in a car that weighs the equivalent of three sheets of paper.
Obviously this means the dynamics of the car are quite, eh, different. Robbert hasn't stopped by adding power though. The suspension got better damper oil, and the front springs were replaced by those installed on the Mk3. There were also chassis stiffeners and anti-roll bars installed front and back. The drum brakes in the front were replaced by Mk3 Sprite disks for better braking. The tires are Yokohama A539 in 195/60/r13. For safety there's also a half cage added, as well as three point harnesses.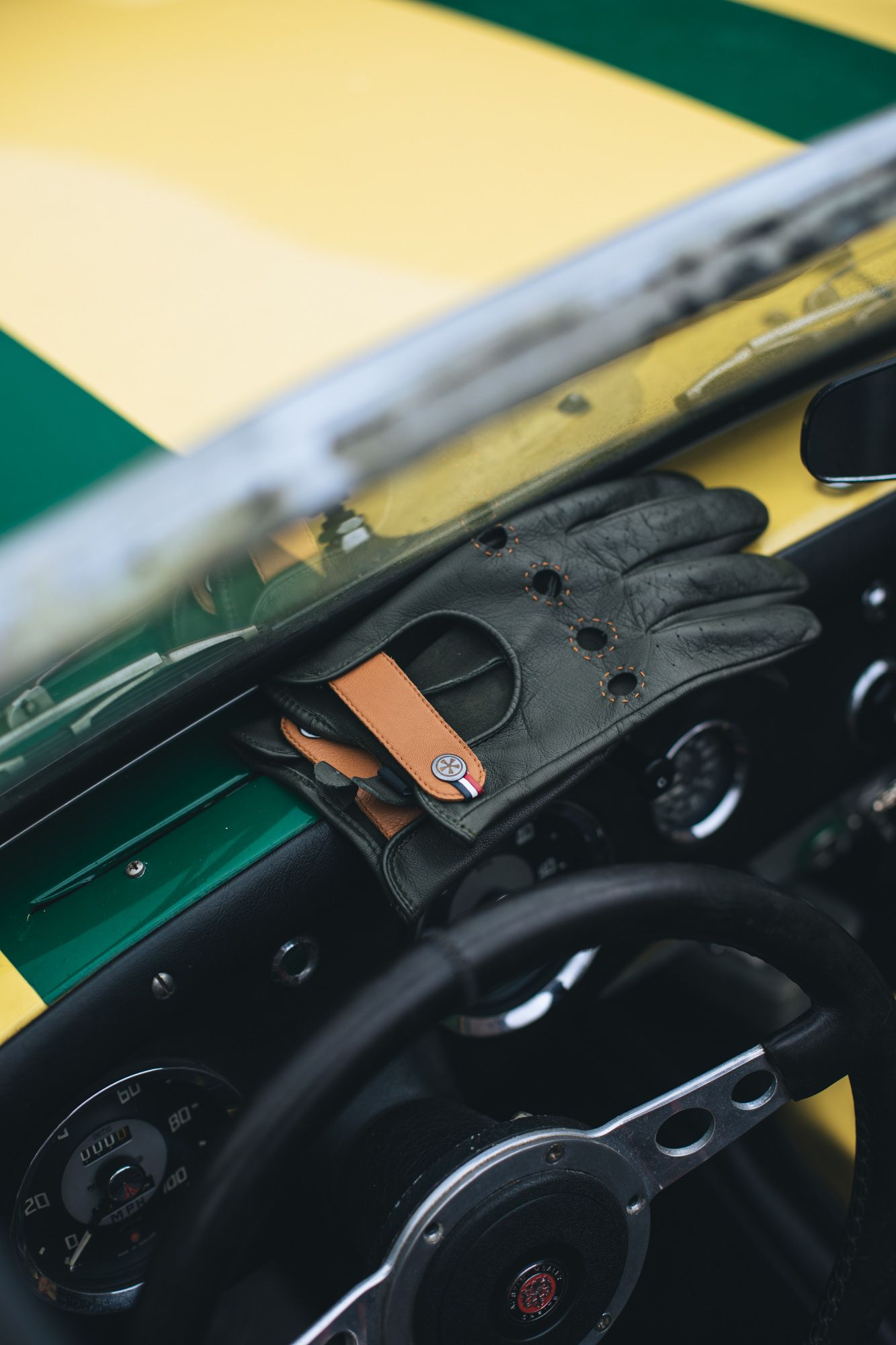 The interior is finished with some typical rally accessories. There's a trip meter, a couple of stopwatches, extra navigation lamps and a compass mounted on the center of the dash. The stock steering wheel has been replaced by a smaller example upholstered in leather. The shiny gear knob is from Sparco. There's also a bunch of 12v sockets installed to accommodate simple needs such as smartphone charging.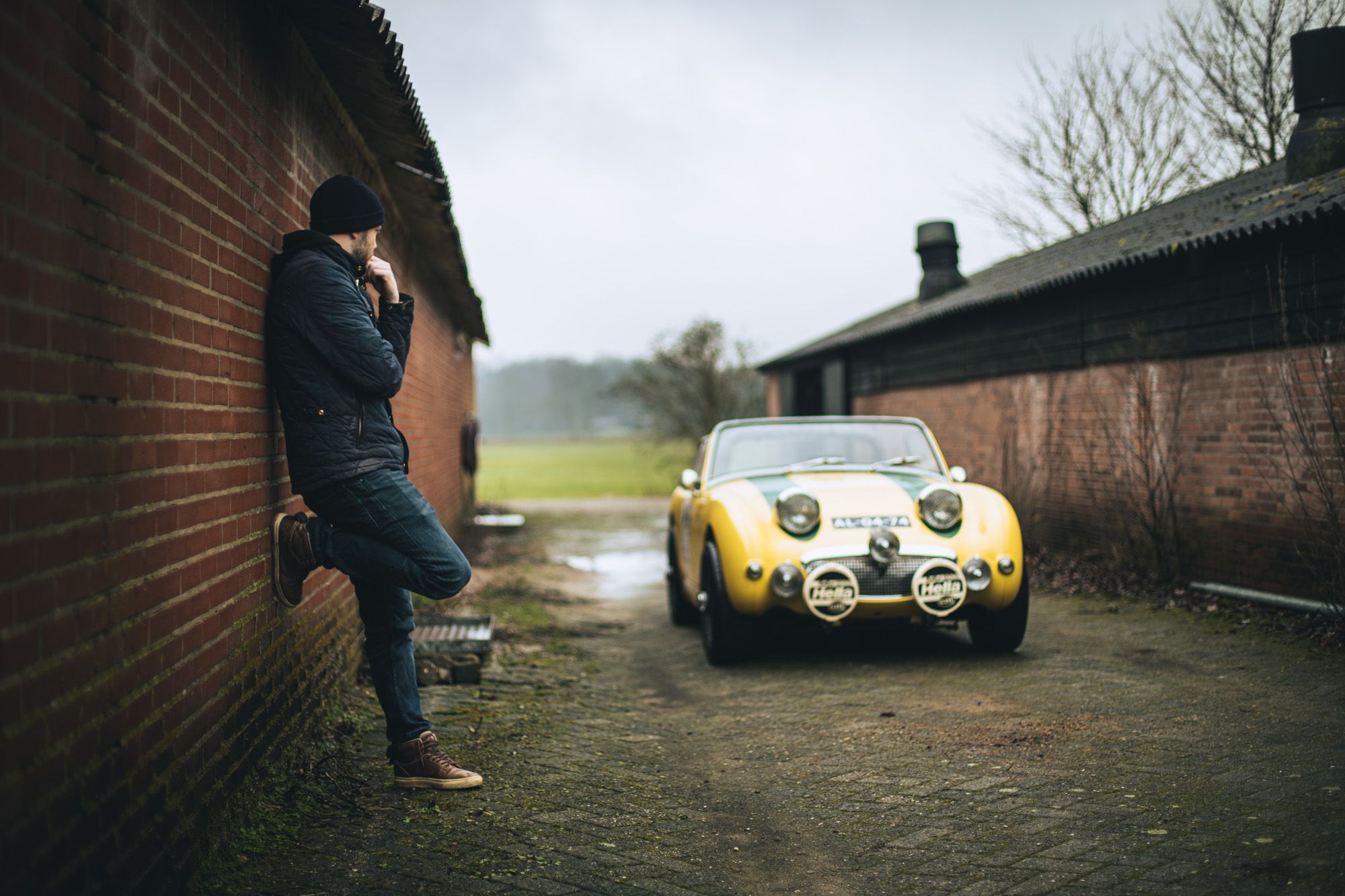 Sixteen years later, the car has been in Robbert's possession for quite some time. His brother happened to just not be so much into cars. And when Robbert and his parents had to settle a loan, Robbert took the car as part-payment. Since then Robbert has driven quite a lot with the little yellow monster. He even used to daily it for a year, but it was a bit of a handful so it's now found its place as a car for the weekends.
He did drive a lot of rallies with a good friend, among which the 'De Langste Nacht' rally, which is based on Le Jog, or Land's End to John o' Groats, which is the traversal of the whole length between the most southern and most north eastern point of the island of Great Britain. The Dutch route is 650 kilometres long and completely driven by night and it's only for cars carrying the Healey badge.
Driving the Austin Healey Sprite Mk1
The weather is horrible. It's drizzling and the temperature hardly gets above 0 degrees Celcius today. Robbert doesn't even consider leaving the top on though. He pulls his Austin Healey beanie a little bit further down and slides his hands into his brand new driving gloves. He slides the shifter into first gear and pulls off. We follow in cameraman Hessel's BMW 1 series with seat heating. Sorry, not sorry.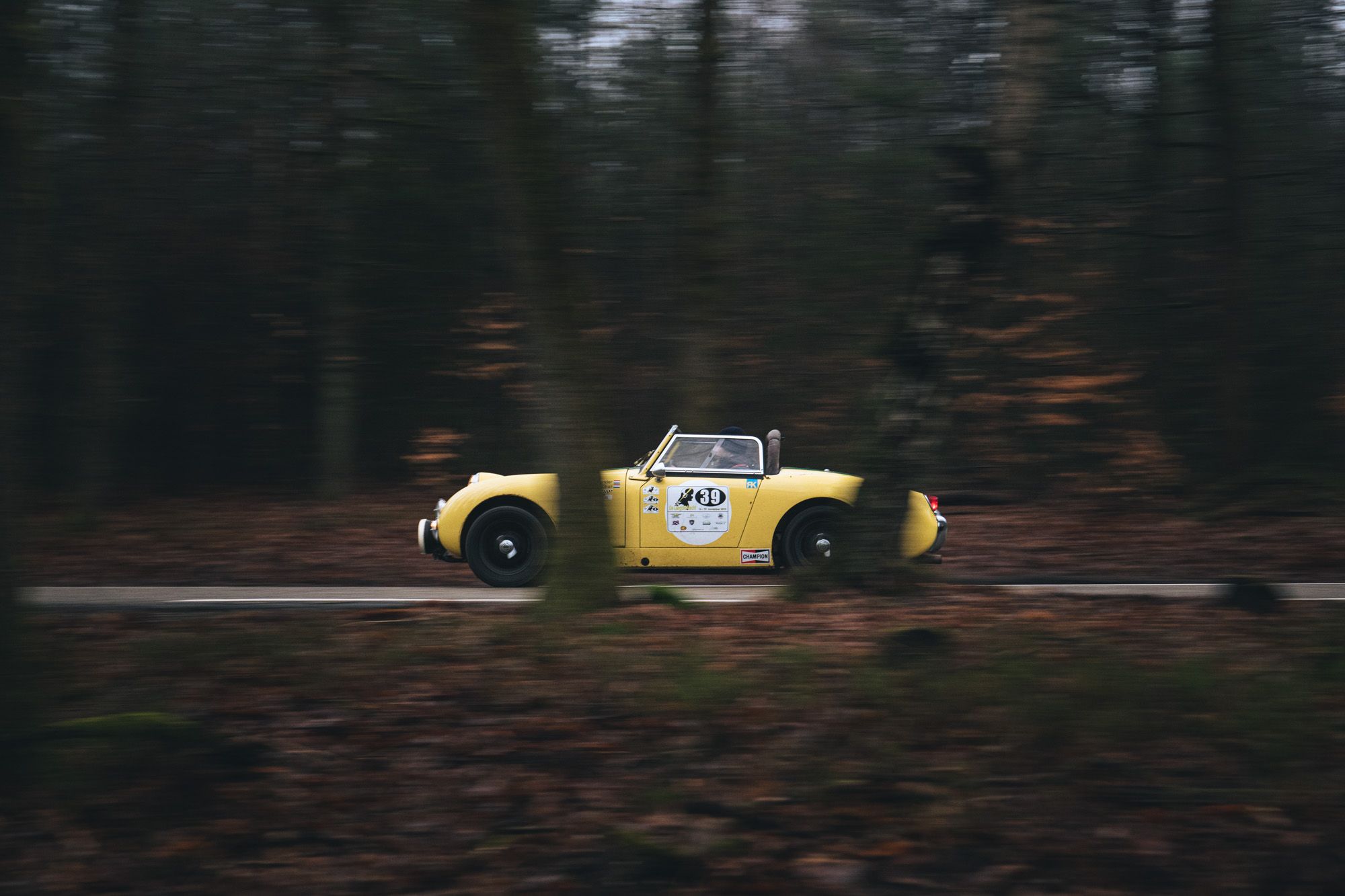 While I slowly start to feel my fingertips again, I notice Hessel is working hard to keep up with the little yellow roadster in front of us. Despite the bad weather, Robbert is not being cautious or extra careful with the car. The engine note sounds sharp and crisp in the silent woods we're crossing. We stop our car on the side of the road and instruct Robbert to do a few fly-by's so we can collect some photos and video images. It's very easy to figure out when Robbert is coming around the corner, because we can hear the Austin Healey Sprite Mk1 very, very clearly. Modern cars sound so incredibly dull, where did it all go wrong?
While we get cold and wet again, Robbert just keeps going. And when we tell him to stop, he stops with a big grin on his face. He's obviously missed his car a bit while it was stored away for the winter season and he looks like he doesn't want to stop driving at all. We need some different shots though, and the sun is slowly starting to lose from the clouds and the drizzle. We tell him to follow us for the last shots, while we do some video and photography from Hessel's car.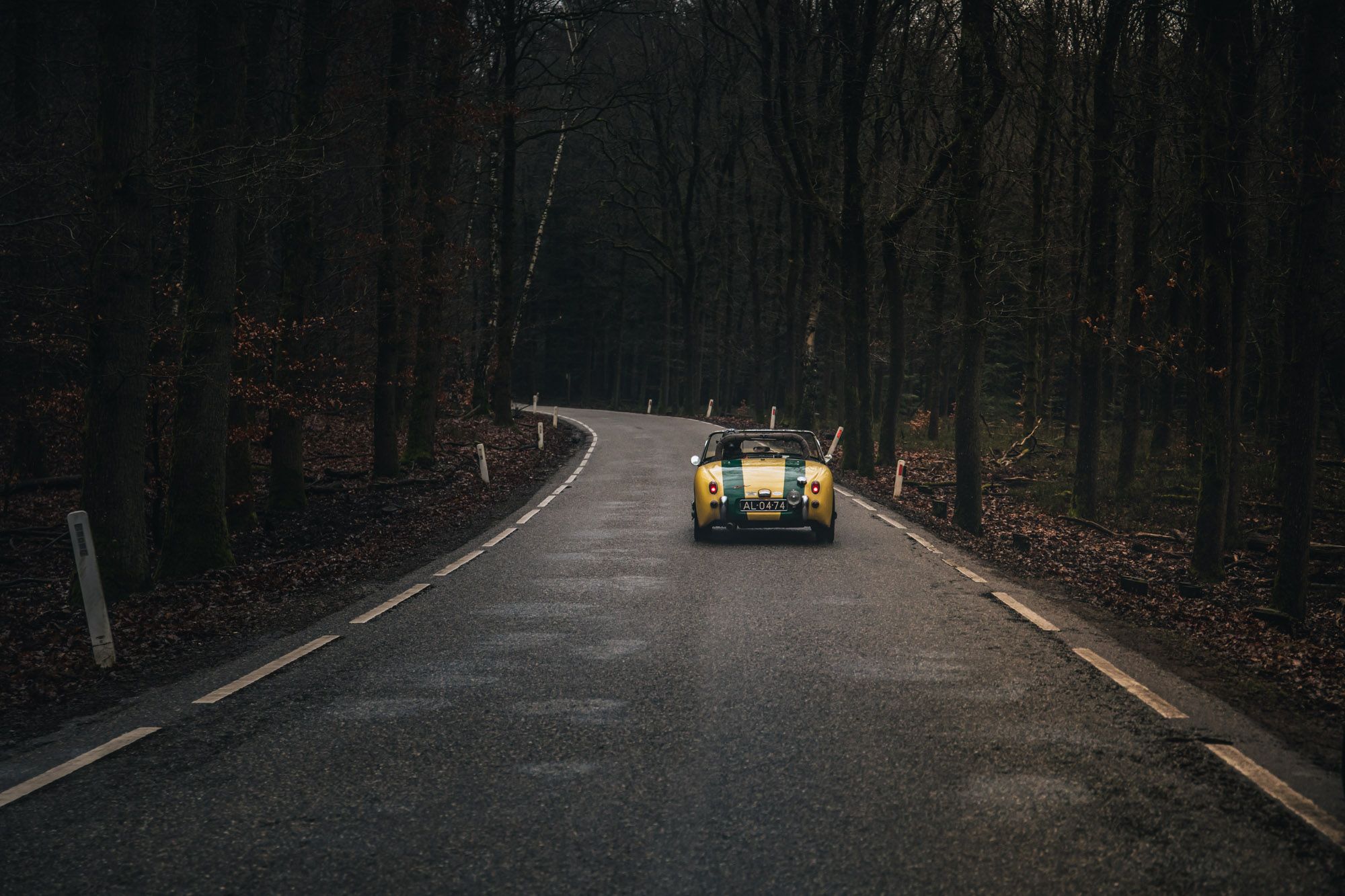 Morris and his Austin Healey Sprite Mk1
Robbert clearly enjoys the pure and raw experience of the Austin Healey Sprite. He gets great satisfaction from throwing it around, man-handling it around the corners and challenging himself and the car to the fullest. He doesn't nanny the car, it's obviously being used to its capabilities.
'You know if you crash into something, the steering column will pierce your heart.'
Robbert says it with a smile on his face, but it's very true: the steering column is basicly a blunt spear waiting to dig into your chest in case of a crash. These kind of cars are not for the faint of heart. You're not much safer in this than you are on a motorcycle, especially in modern traffic. But being aware of that, makes you feel much more alive while driving the Austin Healey Sprite. Robbert obviously gets a kick out of it.
We applaud Robbert for choosing a car that's not a very common choice for people his age. More people should choose these kind of old school, pure, raw cars if you ask us. And the petrolhead genes are passed on: Robbert plans to keep it in the family. If his son Morris (named after the car company) still likes cars when he's older, Robbert hopes Morris likes the yellow rocket enough to one day take it of his hands. Until then, we hope to see Robbert enjoy this rally monster as much as possible. Because no matter how old the car is and no matter what weather it is: we need to celebrate driving.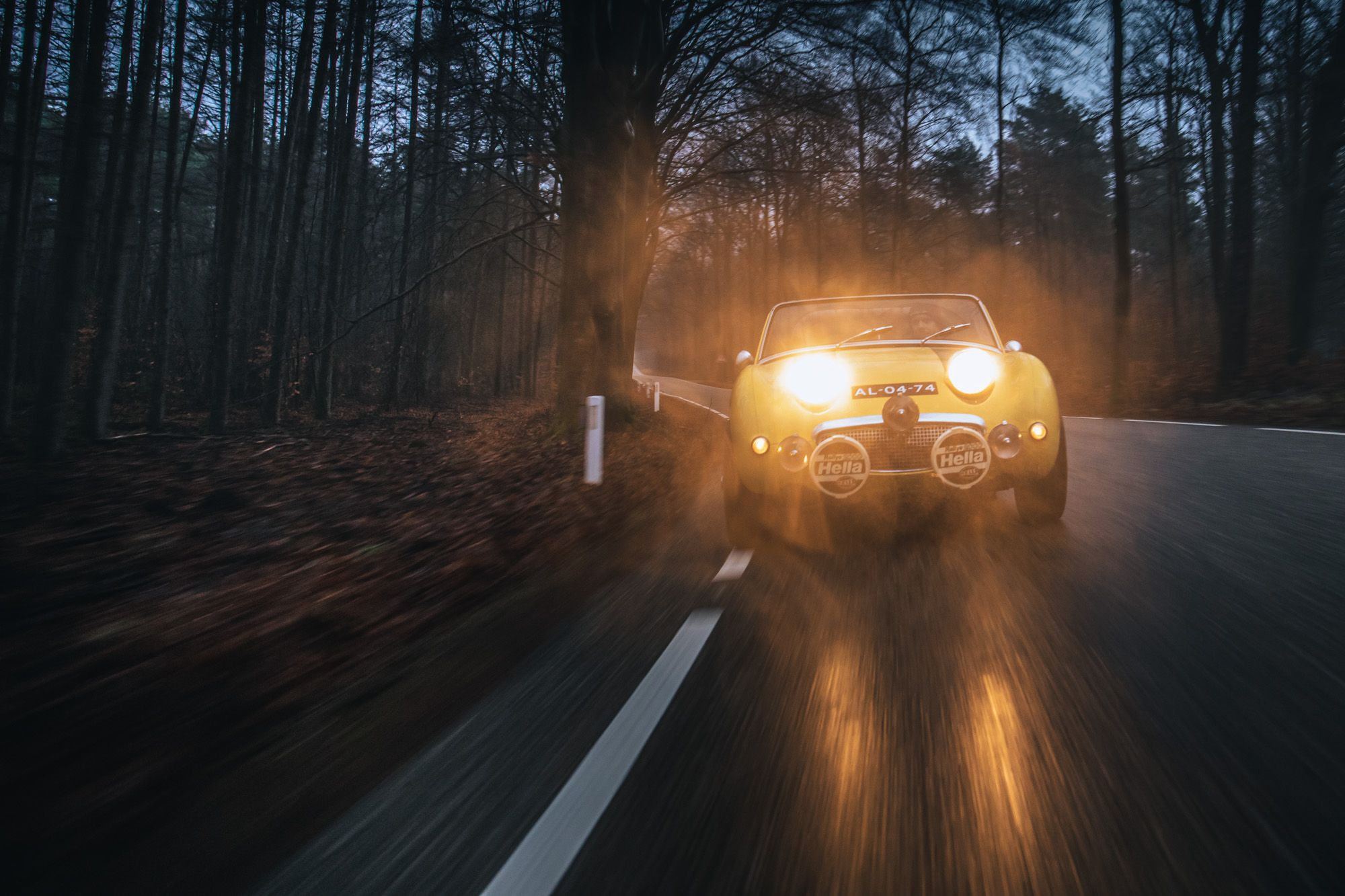 About DrivePact x Roadr
Maybe you spotted the driving gloves Robbert is wearing in this video? Cool, right? They're made by a small company in the Netherlands called Roadr, who sell handmade leather driving gloves. Like us they first and foremost are true driving enthusiasts! The driving gloves worn by Robbert in the video are sold as the Vintage Racers but there's different types, sizes and colors. So if you saw those gloves and thought 'I need those': check out the link below.
Video: Roadr / Hessel Sytema
Photography: DrivePact / Casper Heij