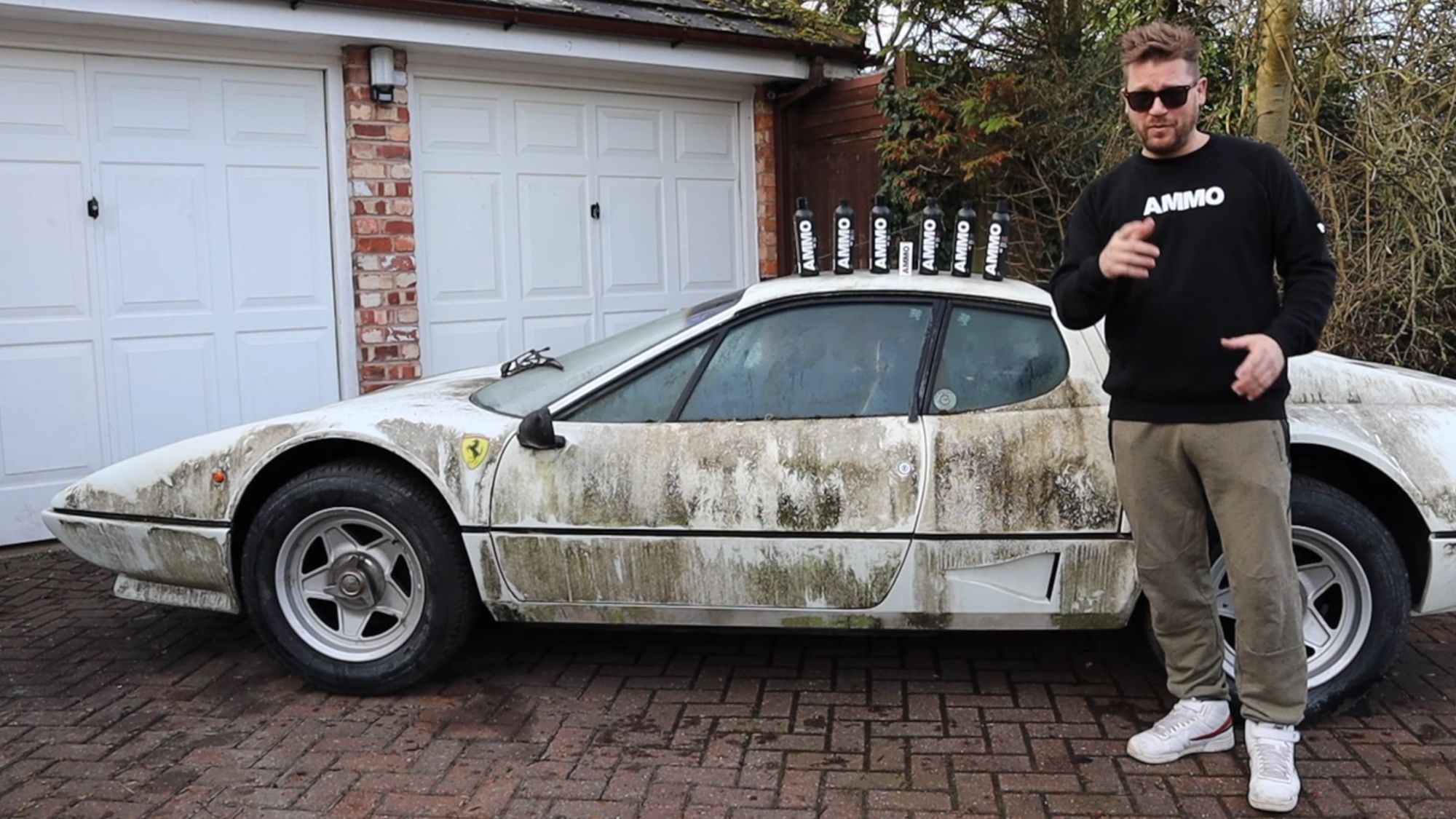 We've got a confession to make: we're not really good at keeping our cars clean and shiny over here. But this Ferrari 512 BBi is another level of dirty.
The Ferrari 512 BBi is one of the cooler Ferrari's if you ask us. Everybody is always talking about F40's and Testarossas when it comes to the Italian icons of the past, but the 512 BBi might deserve a little more praise.
It was built from 1981 until 1984 and it had a unique twelve cylinder engine in boxer formation. That's right, a flat-12 it is. The engine had a capacity of 4,9 litre and was naturally aspirated. It featured Bosch K-Jetronic mechanical fuel injection, replacing the carburetor setup from the 512 BB. The 'i' in BBi was a direct reference to this -then new- technology. The block produced 340 horsepower and 451 Nm of torque, which were all delivered to the rear wheels through a five speed manual gearbox.
It wasn't the lightest of cars, weighing in dry at 1499 kilograms according to Ferrari. But nonetheless it managed to reach 100 kilometres an hour in around 5,5 seconds. The top speed was 280 kilometres an hour.
The chassis was well in order for its time, featuring independent wishbone suspension all around, with coil springs and hydraulic shock-absorbers (twin setup at the back). The brakes were servo assisted with ventilated discs and twin hydraulic circuits.
It wasn't too low on luxury either, with airconditioning and central locking as standard. Please remember, we're talking 1981 here. In total, 1007 examples of the Ferrari 512 BBi were built.
One dirty Ferrari 512 BBi gets washed
But back to why we started this article in the first place: browsing our YouTube recommendations we came across this amazing video by Ratarossa washing a Ferrari 512 BBi for the first time in twelve (!) years. Now, that's unique to start with, but this car has been sitting outside without driving for those twelve years!
The cleaning begins with the interior, which is full of dog hair. After that the moss removal begins and by the end of the video you see the car after its first wash. It's definitely not finished and perfect by then, but the process is amazing to watch. So enjoy!
Now, there's more on this car to be enjoyed, like the video where they picked the car up and the video about technical problems they've encountered. Also, there were $20.000 dollars worth of parts stolen from the car in its twelve year sitting outside. So go check out the Ratarossa YouTube channel, there's a lot of cool content on this car and their other projects!
Source: YouTube / Ferrari 512 BBi