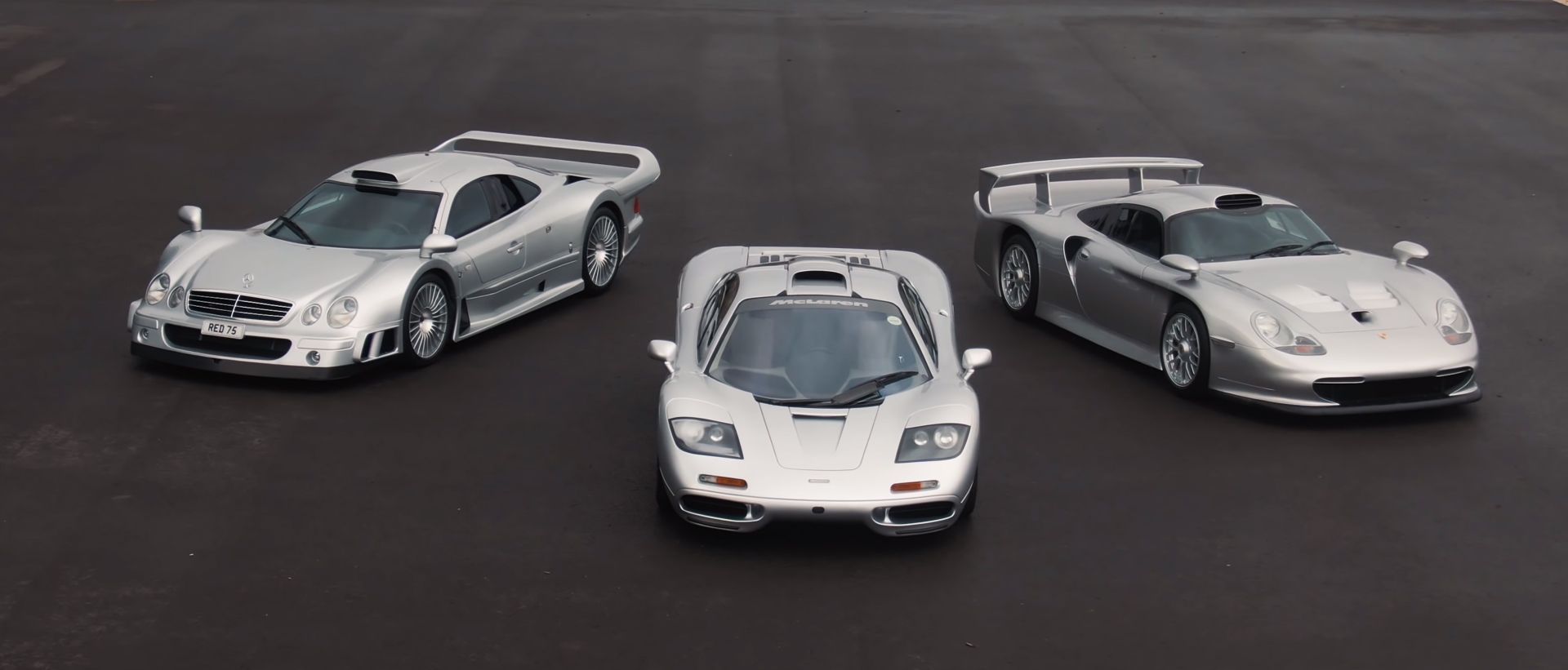 A McLaren F1, Porsche 911 GT1 and Mercedes CLK GTR in one video for a group test, are you kidding me?
To test one of these cars would be a dream come true. To get the three legends together for a group test is the purest form of unobtanium. The man lucky enough to make this video is Henry Catchpole for Carfection.
These are some truly special cars. The ultimate machines of their time, maybe. Incredible performance with motorsport heritage, packaged into (barely) street-legal machines. We would have a hard time choosing between the three of them, since they all hold special places in our hearts and memories. And even though they are very similar in performance and concept, they are quite different.
McLaren F1
The McLaren F1 might come closest to driving perfection with its central driver's seat and amazing V12 engine. The long tail versions of these cars racing in the Le Mans 24 Hours will always remain part of our youth's memories.
The McLaren F1 was powered by a BMW V12, delivering 627 horsepower and 617 Nm. The 0-100 was done in 3.6 seconds and the top speed was claimed to be 387 kilometres an hour.
The street versions were the least rare of the three cars here, and maybe even the most usable and easiest to drive. A total of 71 different road legal cars were eventually delivered.
Mercedes-Benz CLK GTR
The Mercedes Benz CLK GTR was powered by a 6.9 litre V12 pumping out 612 horsepower and 775 Nm of torque. Mercedes-AMG claimed a 0–100 acceleration time of 3.8 seconds and a top speed of 344 kilometres an hour.
A total of 28 CLK GTR's were produced, of which two were prototypes and six were roadsters. Four road cars and one prototype were converted to 7.3 litre versions with the engine from the SL73 AMG. These cars produced 664 PS and 786 Nm.
The CLK GTR might seem to be the odd one out here, because it's built by a manufacturer from the other side of the car builders spectrum. Mercedes-Benz is a huge company when you compare it to McLaren, especially back in the days when these cars were built. And in that time, Porsche was also nowhere near as big as it is now, the Porsche 996 and Boxster only just starting to revive the almost deceased brand in the late nineties.
Porsche 911 GT1 'Straßenversion'
The Porsche 911 GT1 'Straßenversion' (street version) was the odd one out on another detail: it didn't have a V12. It wasn't the fastest of the three, but the twin turbo six cylinder boxer engine meant it was no slouch though. The 544 horsepower and 600 Nm meant it would still reach 100 kilometres an hour under four seconds (3.9 to be precise) and the top speed of these machines was 308 kilometres an hour.
It's not exactly clear how many GT1 Straßenversions were built: two prototypes featuring 993 headlights are confirmed, and 'around 20' more cars with 996 headlights were delivered to customers. We're guessing there were at least 23 of the latter, since a minimum production run of 25 street legal cars was required for Porsche to participate in the FIA GT1 series.
The Group Test
And now 'mister Carfection' Henry Catchpole managed to have the three together for a test, thanks to DK Engineering. We only have the first part of the video to share at this point, we'll update the article when the second (and third?) part goes live.
UPDATE: PART 2
UPDATE: PART 3
UPDATE: BONUS EPISODE